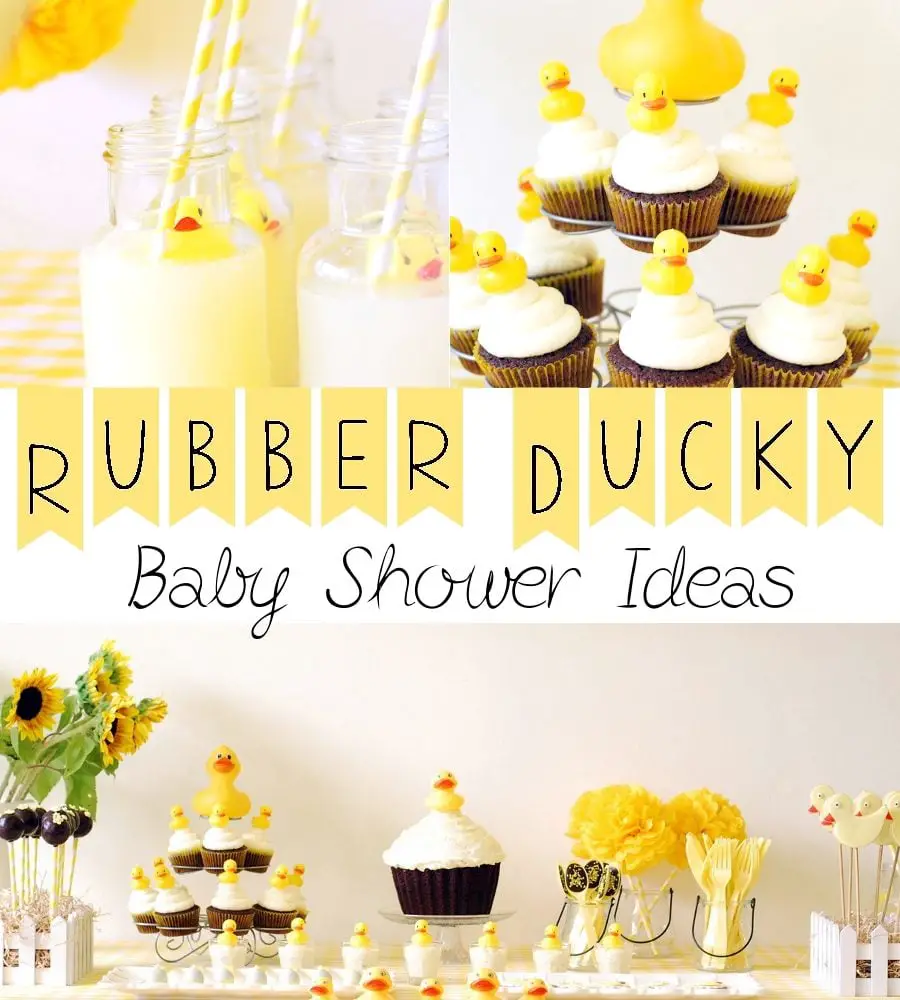 "Rubber ducky, you're the one!"  Everyone is sure to adore a rubber ducky baby shower!
The rubber ducky has been an icon of the bath since the 70's and it has become a timeless toy that is a must-have for kids everywhere!
Have a blast with this squeaky-clean baby shower theme!
Invitations
Say goodbye to those fill-in-the-blank invitations at the party store.  Those are boring and everyone has seen them!
In a time with a whole different virtual world at our fingertips, it should be no surprise that you can order invitations online from a vast selection, and have them personalized for the event, all for the same price or cheaper!
Zazzle is one of the easiest places to order party or baby shower invitations online. This particular invite is one of my favorites and lends it self perfectly to this squeaky rubber ducky shower theme!
Decorations
Want the baby shower to look ducky?  Of course you do!
For a rubber ducky baby shower, the key colors are yellow and blue:  yellow for the duckies, and blue for the water.  From the tables and banners to the balloons and streamers, transforming the venue into a bathtime wonderland will be simple and fun!
Dive into the decorating with these great ducky-inspired ideas:
Rubber duckies:  These little guys are the star of the bath, and should totally outnumber your guests.  Use real rubber duckies, and pictures for the walls.

Bubble machines:  Duckies splash around in a bubble bath, so a bubble machine or five is totally appropriate!

Fishbowl centerpieces:  For tables, a cute centerpiece is easy:  use large fish bowls and put blue glass gems in it, fill with water and place 2-3 rubber duckies in each one!  It doesn't get much easier than that!
Special thanks to Miss Petel for this adorable rubber ducky baby shower design!
Food
At a baby shower, everyone waddles around the food table!  Want some rubber ducky baby shower food ideas that will make sure your guests are quacking for more?  Try these!
Blue fondue:  Have a fondue fountain in the middle f the food table with white chocolate dyed blue.  Surround it with rubber duckies and some good food; don't forget the peeps!  (Okay, so they're not exactly ducks, but people will get it!)

Waddlewiches:  Make sandwiches and use a duck-shaped cookie cutter to give them they're duckish figures!

Duck-o Jell-o:  In individual cups, make blue jello, top with a bit of whipped cream and a mini rubber duck, and you now have a cute dessert!

Duck punch:  In a punch bowl, mix sprite and blue Hawaiian Punch (or any blue punch) to taste, add a few scoops of pineap

ple sherbet and two or three rubber duckies (make sure they are the ones that float!) and you have some delicious duck punch!  Oh, and don't forget these straws!
Games
Games can make or break any baby shower.  Ditch the paper and pencils and try something new!
Have your guests shaking their tail feathers with these fun ducky games:
Pick-a-duck:  Pick a duck, any duck!  Every duck wins a prize!  Have a pool filled with water and a bunch of rubber ducks that have a number written on the bottom; each number should correspond to a number on a prize.  Everyone is a winner, much like the carnival game!

Duck Toss:  Play "hot potato" with a stuffed duck to the fun tune of the chicken dance.  Every time the music stops, the person holding the duck is out, until you reach the final person who is the winner!

Take a guess:  Fill a jar with rubber duckies, teething rings, pacifiers and anything baby-related.  Each person gets one guess as to the amount of numbers, and the one closest without going over wins a prize!

Quick Quackers:

 

 You'll need a few things for this one; chocolate dipped plastic spoons and small dishes of your favorite pudding or yogurt. First one to suck the chocolate off the spoon, eat all their pudding, and yell "Quack quack!" wins!
Favors
Everyone who took time out of their busy lives to make your baby shower special certainly deserves a big "thank you!"  Use the shower favors to express your gratitude for them joining you on this day.
Of course, you can always go with the favor favorite; a sweet treat such as cookies, cupcake, or these yummy chocolate covered cake pops! Another fun homemade favor ideas that would be perfect for a rubber ducky themed baby shower is a DIY bath set:  Fill little tin buckets with a blue shower puff, a piece of decorative soap, and top it off with a rubber ducky!