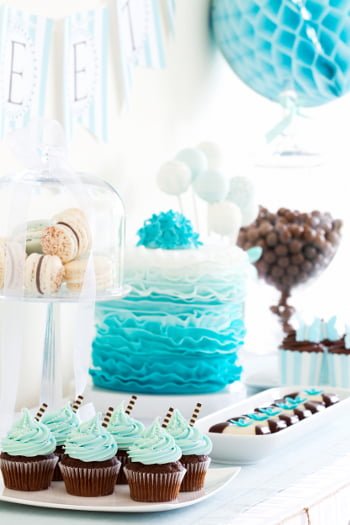 Food will be a highlight of your baby shower, and you will have to coordinate the food choices and selections you will serve with the overall theme of the baby shower.
Some baby shower parties are more formal sit-down luncheons or dinners, while many others are casual, backyard events that don't necessarily need full-course menus.
Food to Fit Your Theme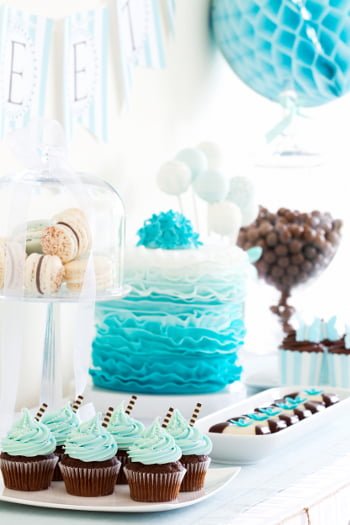 The theme or ambiance of your baby shower will be more emphasized or highlighted if you choose the appropriate food.
For instance, color motifs are usually based on the gender of the baby (if already known).
Baby boy showers usually revolve around blue, red or green; you can pick out food items that have these shades of color, or desserts such as fruit pies or cakes that incorporate blue or red.
On the other hand, girl baby showers generally are built around pink, yellow, or purple; cupcakes and other desserts with these colors would be great ideas.
Breakfast and Brunch Menu
Baby shower parties are held at different times of the day, so if you want a menu that is flexible enough for daytime or nighttime, a brunch menu can be a safe choice.
You can pattern your menu after those popular all-day breakfast menus from restaurants like Denny's or IHOP.
Finger Foods and Sandwiches
Food served during baby showers do not need to be heavy meals either. Chips and dip, sandwiches, cheeses, fruit platters, chicken wings, and other finger foods are easy to prepare, and are appropriate for a more activity-filled, mix-and-mingle baby shower that doesn't really allow much time for your guests to sit down and eat.
Lots of Desserts
Desserts are a must for baby showers; in fact, you can probably get away with serving just a wide selection of desserts such as cakes, pies, cupcakes, and other sweet pastries and delicacies. A dessert buffet table with lots of candies and chocolates is also popular.
Don't forget about your baby shower cakes and cupcakes! These make a great centerpiece to your dessert table!
Go for Professional Catering
If you have a lot of invited guests and want a full-course dinner, you can look into having a local caterer provide the food and drinks instead of making all the preparations yourself. Food caterers usually take care of the clean-up afterwards as well, so that's one less thing for you to worry about. A catered baby shower event gives you more time to actually enjoy the party with the guests also.
Eat Out at a Local Restaurant
Many restaurants and establishments also offer special rates and facilities for events, and your baby shower might be a good fit for a night out at a local family restaurant or eatery.
You can choose traditional American or Italian cooking for a homey ambiance, or perhaps some French or Middle Eastern cuisine for the more adventurous tastes.
Activities and games can be held at the restaurant if they have ample space, and the other diners won't be disturbed. If having your festivities at the restaurant is not an option, you can look for a nearby park or venue where the activities can happen before or after the meal.