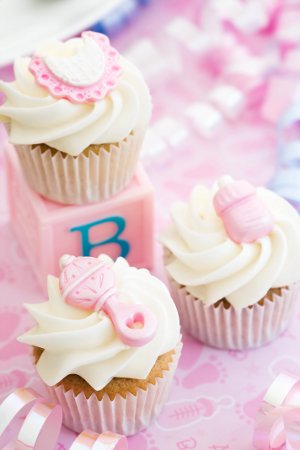 Baby showers would not be complete without gorgeous and delicious cakes and cupcakes for the guests to enjoy while celebrating with the guest of honor.
In fact, it is not unusual in a lot of baby showers for planners or hosts to opt to serve just light snacks (sandwiches, appetizers) and load up on the desserts instead (pies, cakes, fruit platters, cupcakes) especially for those showers that are packed with various activities and not really a lot of time for the participants to sit down for a full meal.
Go Crazy with Cakes and Cupcakes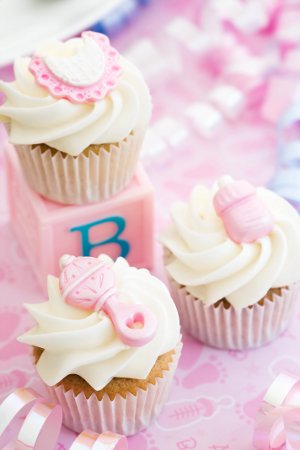 If you're planning the baby shower, keep in mind that it's perfectly okay to go overboard with the baked desserts, especially if the expectant mother has a sweet tooth and loves those cakes and cupcakes.
One very popular idea is to have a dessert table (or dessert tables) where various desserts are laid out buffet-style for the guests to eat to their hearts' content.
If your baby shower is scheduled at a very in-between hour and you're not sure whether to serve lunch or dinner (if you're serving a full meal at all), going for a full-blast cake galore not only makes it easier on your part, but it is also more cost-efficient generally speaking.
Use Baby Shower Cakes as Décor
Creatively-decorated cakes and cupcakes can brighten up the baby shower venue and even reinforce the theme or ambiance you want to achieve.
For instance, if you have a circus baby shower theme, cakes that look like gumball machines, arcades, or stuffed toys complement the look.
For jungle-themed baby showers, cupcakes with zebra stripes or leopard stripes complete the ambiance. Color-coordinated cupcakes and cakes for baby boys and girls are also a popular option.
Make Your Own Baby Shower Cakes and Cupcakes
Here are some baby shower cake and cupcake decorating ideas we've collected from various sources around the Web:
Want more information about Baby Shower Cakes, Cupcakes, and Menu planning? Check out Baby Shower Menu Planning: Baby Shower Food Ideas.