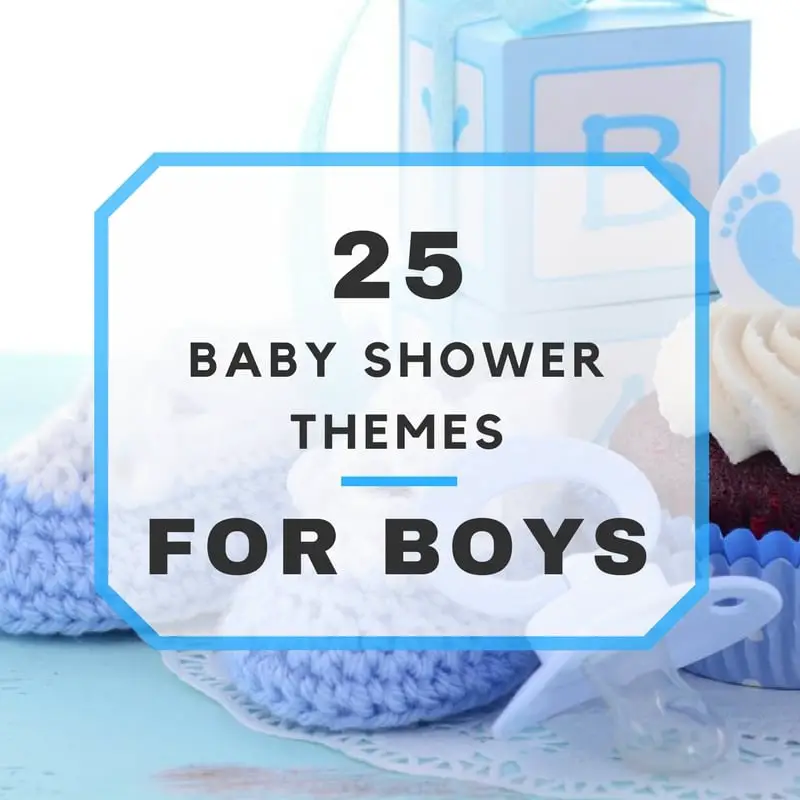 Having trouble deciding on the perfect baby shower theme to celebrate the new little man? Here's a list of 25 of our favorite baby shower themes for boys to help you welcome the new man of the house!
Planning a baby shower for girl? Check out our list of baby shower themes for girls!
Animal Themes
King of the Jungle

–

Jungle baby shower themes are e

asily one of the most popular baby shower themes for boys. Have fun decorating with lots of cute stuffed animals and funky animal prints! For more ideas and tips, check out Jungle Baby Shower Ideas.
Whale of a Time – Who knew whales could be used to create such an adorable baby shower theme, perfect for the little guy on the way!
Going Bananas –

Monkey themed party supplies, banana flavored snacks and sweets, and a yellow & brown color scheme will make planning a monkey themed baby shower a breeze!
Noah's Ark – This was actually a theme my own family threw for our first, his name coincidentally being Noah as well!
Prehistoric Party – They may not have made it onto the Ark, but that doesn't mean dinosaurs don't deserve a place on our baby shower themes for boys list! You'll find some great prehistoric party planning ideas on Pinterest!
Character Themes
Rootin' Tootin' Cowboy

– Country music in the background, cow print party supplies, and the table decorated with horseshoes and cowboy hats! Talk about one awfully cute cowboy themed baby shower! Check out Cowboy Baby Shower Ideas for more cute rootin' tootin' ideas!
Construction Zone – Warning: This baby shower will have everyone "Awwing" immediately! Some tips to help you start off: Try yellow plastic hard hats in lough of snack bowls, decorating with caution tape, and cupcakes topped with tiny sugar traffic cones.
Arrrgh, Pirates! – Ahoy thar! Ye 'n yer crew are sure t' get a kick out o' this swashbucklin' shower theme! Set sail wit' a table full o' booty, a pirate photo booth with hats an' eyepatches, 'n some pirate games t' keep the crew a'foot! Someone say treasure hunt?
Firefighter/Policeman – Sound the sirens, there's a baby on the way! Firefighter and policeman themes are adorable baby shower themes for boys, especially when the proud papa-to-be just so happens to be one! 

Rockabye Rockstar – Get ready to party like a rockstar! He's already hard at work on those mad drumming skills in mama's tummy anyways! For a killer rockstar baby shower, stock up on brightly colored decorations, pop rocks and other rock candy, and plenty of inflatable guitars!
Novelty Themes
Big Top Circus – Probably one of the most colorful and festive theme ideas for boys! Lots of animals, lots of color, (emphasis on yellows, reds, and blues), and lots of food, including "Ready to Pop!" popcorn mix!
Barn Yard Baby – Adorably cute and quaint! Decorate your barn yard baby shower with mini straw bails, red gingham table clothes, and black and white cow print party supplies. Don't forget to add lots of cute little barn yard animals!
Choo-Choo Train –

All aboard the Baby Shower Express! Start with the signature conductor color scheme, blue and white stripes, add some "Baby Crossing" signs, a themed "Dessert Station", and a "Baggage Claim" for your guests' party favor bags.



Sailing Away

– "Anchors away, my boys!" This nautical inspired theme is fun and simple to plan; Think: red, blue, sailboats… and wallah! Especially cute if you're planning a baby shower by the beach! Check out Nautical Baby Shower Ideas for more cute ideas!
Sports Themes
The Minor Leagues – Batter's up! You'll hit a home run with this baby shower theme based around America's favorite past time! Make sure to provide each guest with a box of Cracker Jacks, Baby Ruth candy bars, and a baseball signed by none other than the Mama-to-be herself!
Peewee Football – If the parents-to-be love football, this is the ideal way to celebrate the new baby and pay homage to their favorite team!
Putting Green – This fun and sporty shower theme is sure to be a hole in one! Here are some fun ideas to help you get started: "Golf club" sandwiches with "Sweet Tee", "Guess the number of tees in the jar" game, and personalized golf ball and tee baby shower favors.

Surf's Up – Duuuude, you're having a baby! If you're planning a surfing/beach inspired baby shower, be sure to stock up on leis for guests to wear, surf board shaped cookies, and beach balls of all sizes and colors for games and decoration!
Television & Movie Themes
Toy Story –

"You've got a friend in me!" Toy Story is without a doubt one of my favorite baby shower themes for boys! Some ideas to help you get started: Cow print decorations, toy soldiers decorating the tables, Woody's Sheriff badges for guests to write their names on and wear, and of course, the Toy Story soundtrack playing in the background!
Monsters Inc.

– "We scare because we care!" Your guests are sure to have a scary good time at your "Monsters Inc"  baby shower! Make sure to include Sully Fur Cotton Candy, Mike Wazowski's famous "Lime Slime" Soda, Celia's signature "Mud Fudge Cupcakes", and Abominable's deliciously refreshing Lemon Snow cones! Get more Monsters Inc. Baby Shower Ideas here!
Marvel Superheroes – 

You don't need super powers to throw a super superhero baby shower! Captain America Cookies, Green Gamma Ray Punch, Thor's Hammer Cake Pops, and Iron Man's Vibranium Party Mix!



Dr. Seuss – "A person's a person, no matter how small!" So welcome the little bundle of joy with a creative shower fit for the fashionably famous feline, "The Cat in the Hat!" Red and white stripes, a splash of blue, adorable it'll be, you'll see it's true!
Star Wars –

"This is not the baby shower theme you're looking for… or is it?" Celebrate the newest Jedi in training with a stellar Star Wars baby shower that will be out of this world! 
Winnie the Pooh

– Celebrate the baby on the way, deep in the 100 acre woods with Christopher Robin, Winnie the Pooh, and all their friends! A great theme option for both boys and girls!