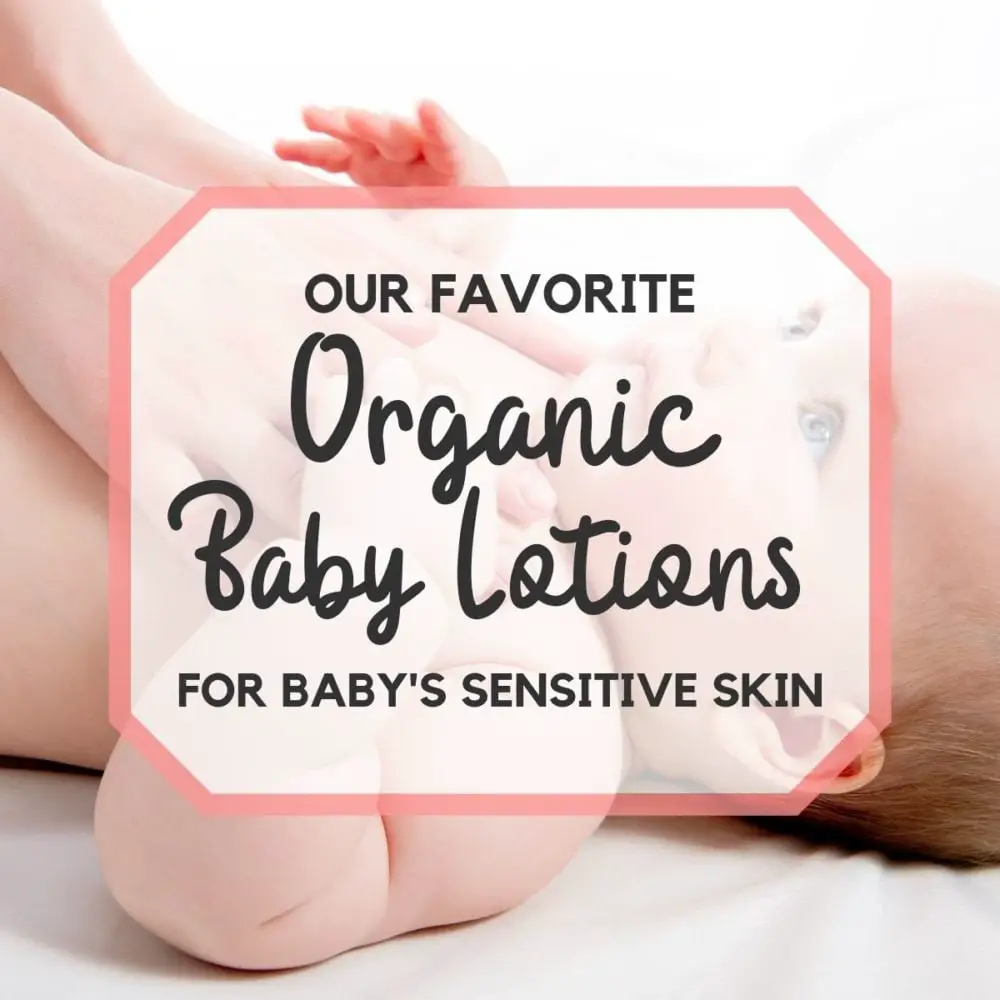 ---
I hope you love the recommendations on this page. Just so you know, I may receive a small commission for any purchases through the links found on this page. I really appreciate your support.
---
If you've ever scanned a baby registry, you've seen the obligatory baby lotion. In fact, most registry sites will automatically place a name brand lotion on your registry for you. Are baby lotions really needed? Is choosing organic really necessary? Which lotions are the best?
To answer these questions we need to first talk about your baby's skin! When babies are born they are covered in something called vernix caseosa. It's a waxy, white substance that protects your baby's skin while they are in the womb. Once that cheese-like coating is washed off your little one's delicate skin it is exposed to the elements. Being softer, thinner, and less able to hold in moisture than our adult skin, it needs extra love.
Common Baby Skin Conditions That Can Be Treated With The Right Lotion
In addition to needing a daily moisturizer, there are several common baby skin conditions that the right lotions can help with.
Infantile Seborrheic Dermatitis
More commonly known as cradle cap, this condition presents itself as thick, crusty, scaly patches on baby's head. It doesn't bother your baby much but it doesn't look appealing.
Eczema
This skin issue presents itself as dry, red skin. It can sometimes look like patches. Unlike cradle cap, this condition can be very itchy and uncomfortable for your baby.
Drool Rash
Just like chapped lips, this rash appears as red, irritated skin on baby's face caused by saliva. Sometimes the skin can appear dry and even cracked.
Diaper Rash
This is probably the most well-known baby skin condition.  It is inflamed, red skin on your baby's bottom. The red skin is sore for baby.
So, why organic? When my twins were born, we had a conversation with our pediatrician about what lotions to use. She informed us that it is important to pay attention to what is in baby skincare products.
Baby skin is so thin that what you put on it can actually enter into their bloodstream. Organic ingredients are free from pesticides, fertilizers, and other non-organic substances. These are things you wouldn't want your baby to ingest so it would stand to reason you wouldn't want them going through your baby's skin.
What Features To Look For In An Organic Baby Lotion
Does It Treat Any Skin Conditions?
If your baby suffers from any of the skin conditions listed above  (or any unlisted) it is definitely a plus if the product claims to treat these issues. It's a bonus if the lotion has been clinically tested.
What Is The Difference Between Fragrance Free vs. Unscented?
Although it may smell amazing, the synthetic fragrances added in cosmetic products are actually harsh chemicals that have no business on your babe's skin. Some fragrance-free products may have a scent but this smell comes from the ingredients in the product, not from add-ins. It may seem like "unscented" means the same thing as fragrance free but it is far from it.
Companies use chemicals to cover up the smell of their ingredients so the product has a neutral scent.  When buying for baby, it's best to go with the fragrance-free over unscented.
How Do You Know It's Really Organic?
The USDA, United States Department of Agriculture, has different levels of certification for cosmetics that claim to be organic.
The highest level is "100 Percent Organic." Products certified as 100 percent organic must have all of their ingredients certified as organic and everything that aids in the processing of the product must be organic. Products that are certified with the USDA as 100 percent organic will have a seal.
Products at the "Organic" level will also be permitted to display a USDA seal. These products must have all of their agricultural ingredients be certified as organic. Only 5% of the total ingredients are allowed to be non-organic.
Next, are products claiming they are "made with" organic ingredients. In order for a product to claim they are made with organic ingredients, they must contain at least 70% organic ingredients. Organic ingredients must be noted on the product label. 
Goods can still be worthwhile and have organic components but not fall under the above categories. If it has less than 70% organic content the company can list the certified organic ingredients it contains.
Other Certifications
There are plenty of organizations that will certify a product if it adheres to their standards. A lotion may list certifications on it or have a seal from the group certifying.
What We Don't Want In Our Baby Lotions
Almost as important as what's in your baby's lotion is what's not in it. There are plenty of chemicals you want to avoid but here's a short list of the top offenders:
Parabens
Parabens are preservatives that has been used in cosmetics and food for a long time. The main concern with them is they may disrupt hormone function. They tend to mimic the hormone estrogen. Some studies have found parabens in breast cancer tumors.
Petroleum, Mineral Oil, Paraffin Oil, Petrolatum
These are all byproducts of refining petroleum into gasoline. Although they are required to be ultra-purified to be in cosmetics, concerns have been raised about the possible carcinogenic toxins left behind.
Which Organic Baby Lotion Should You Buy?
Now that you know why organic is best and what to look for, let's break down our picks for the 10 best organic baby lotions!
10. Puracy Organic Baby Lotion
What I Love About It: This company cares about the community. The company will donate a portion of each purchase to help less fortunate children and families.
This lotion has some accolades to brag about. It has been featured on shows on NBC, ABC, and The Today Show. It was the winner of The Bump's 2018 best of skincare awards. With all that hype you know it's got to be good! Organic ingredients like sunflower oil, aloe vera, shea butter, and jojoba oil make it ultra moisturizing. That moisture lasts for 24 hours so you wont feel the need to constantly reapply.
Though not every ingredient on the list is certified organic, they are all natural and plant-based so there's no worry about mystery chemicals in your lotion.  This product was developed by an MIT, PhD chemist to help babies with very sensitive skin, but it's also gentle enough for daily use for babies with no skin issues.
Clinically tested by dermatologists and pediatricians, you can rest easy knowing it works. It's sulfate free, gluten free, certified vegan and cruelty free by PETA (People for the Ethical Treatment of Animals), and made in the USA! Puracy claims same day customer service and a money-back guarantee, so there's no risk trying this out!
9. Babyology Natural Baby Lotion
What I Love About It: Zero 1 star ratings on amazon! How many products can say that?
We all know babies like to explore the world through their mouths, including their hands and feet. No need to worry about babies ingesting this lotion; all the ingredients are completely edible! Babyology was founded by a mother who was unsatisfied with the chemical laden lotions on the market.
This product contains organic ingredients like rose water, coconut oil, and sweet almond oil. Each of those ingredients nourishes and hydrates your baby's skin as well as plays their own unique roles in aiding skin health. The sweet almond oil is filled with vitamins. The rose water is naturally anti-inflammatory. The coconut oil helps to keep the skin soft and smooth. 
All of the ingredients are naturally sourced. The lotion is naturally scented, has no dyes, parabens, or phthalates. It has been clinically tested for even the most sensitive skin!
8. Baja Baby Organic Lavender Lotion
What I Love About It: The company offers a full refund if you are dissatisfied with their product.
Baja Baby features great organic ingredients like avocado oil and sweet almond oil.  The organic grape seed oil is a natural anti-inflammatory. Pure glacial water assures that there's no chemical contamination.
It has an easy-to-apply thin consistency and is perfect for everyday use.  This lotion is EWG certified. EWG, Environmental Working Group, is a nonprofit that maintains a list of chemicals that are known to cause health problems. This lotion is certified to be safe from these chemicals by the organization. This logo lets you know that there are no parabens, sulfates, or phosphates. It's also certified cruelty free and vegan by PETA.
Essential oils give this lotion a subtle fragrance instead of added chemicals. You and your baby are going to love the naturally soothing scent of the certified organic lavender oil.
7. Earth Mama Calming Lavender Baby Lotion with Organic Calendula
What I Love About It: The packaging is BPA free!
Every inch of your baby's skin will benefit from this lotion made with organic ingredients.  It will soothe your little one's dry and itchy areas.
Earth Mama's baby lotion has been dermatologist-tested to help with skin irritation. The great, naturally healing, organic ingredients like aloe leaf juice, calendula, and organic shea butter work together to moisturize and calm baby's skin.
This product carries the NSF (National Sanitation Foundation) certification for organic ingredients.  In addition to the NSF certification, it has also been certified organic by Oregon Tilth. Oregon Tilth is an organization that cares about sustainable and equitable organic ingredients.
You won't have to worry about irritating added fragrances; naturally-scented organic lavender oil and vanilla extract produce a calming, pleasant aroma. You won't find parabens, petroleum, or mineral oil on this lotion's ingredient list, only the good stuff!
6. Coconut Baby by Coconut Essentials
 What I Love About It:  The sunflower oil is a natural source of vitamin E, great for skin!
Looking for an all-natural moisturizer with simple ingredients? Look no further than this coconut baby oil! Made by a small business founded by a mother and teacher wanting to share the helpful benefits of natural ingredients. The ingredients are organic cold-pressed coconut oil, organic sunflower oil, and organic grape seed oil.
Really, that's all that's in the tub. Absolutely no parabens, harsh chemicals, or perfumes in sight! You can see for yourself how little these natural ingredients are tampered with. The lotion changes consistency based on the temperature like natural coconut oil does.
This product helps treat your baby's cradle cap, eczema, and diaper rash. The benefits don't stop there; everyone in the family can benefit from this tub! It helps heal adult cradle cap, also known as seborrheic dermatitis, and psoriasis.
Still have your stretch marks from growing that precious baby? This salve helps diminish the appearance of those tiger stripes! The advantages are endless!
5. The Honest Company Organic All Purpose Balm
 What I Love About It:  This works well as a diaper cream too!
You may have heard of The Honest Company as it was founded by actress Jessica Alba. She started her business because she felt that she couldn't find safe products for her own children. She wanted to create a company to help parents find baby products they know they can trust.
This lotion has the USDA Certified Organic seal. Referring back to the buying guide, a product has to have 95% organic material to be allowed to sport this official seal. Among its organic ingredients are sunflower seed oil, olive oil, and coconut oil; all wonderfully moisturizing.
Another moisturizing ingredient is the vitamin-packed organic shea butter. This hypoallergenic, creamy-paste like lotion promises to soothe and nourish your baby's skin.
It is made completely free of GMOs (genetically modified organisms), petrolatum, mineral oil, lanolin, parabens, fragrances, and dyes! It's perfect for everyday moisturizing. Honestly, The Honest Company lives up to it's name!
4. Baby Mee Bee Gentle Baby Body Lotion
What I Love About It:  Convenient pump so you can keep one hand on your sweet babe at all times!
Help save the bees with this baby lotion made with organic ingredients!  One percent of all sales goes to charities that teach children about the importance of bees, growing their own food, and eating healthily.
Mee Beauty (mee meaning honey in Chinese), was created by a beekeeper who wanted to make quality products using honey. The pure honey in this lotion moisturizes the skin. Don't worry about your baby being under one year old and exposed to honey though; this company heats the honey to purify it of any dangerous microbes. Each batch is tested for these microbes before being sold.
The main ingredient is organic aloe leaf juice. It will soothe your little one's skin while helping to heal any rashes. With shea butter, sunflower seed oil, and vitamin E your baby's skin will be ultra smooth and hydrated!
3. Bare Baby Organics Premium Moisturizing Lotion
What I Love About It:  It goes on easy and a little bit goes a long way!
Similarly to other natural organic products, Bare Baby was created by parents who didn't like the dangerous chemicals in the skin care products for their babies. The father in this mother-and-father team is a professor and doctor in chemistry, so he knows firsthand the damage harsh chemicals can incur.
This lotion contains 80% organic ingredients; 95% of the ingredients are plant-based. Though the star of the show is the vitamin-rich organic aloe leaf juice, the other ingredients are too good to ignore. Organic oils like coconut, olive, avocado, and grape seed are naturally anti-inflammatory to calm and moisturize baby's skin.
A unique ingredient is organic giant kelp. Giant kelp is known to hydrate and soften skin. Absolutely no artificial fragrances or dyes, sulfates, phthalates, or parabens in this bottle! The cream is completely vegan and free from animal testing.
Have no doubts that Bare Baby organics is a good choice for baby skin care; after all, their motto is, "Trusted for our Babies and Yours."
2. E-ra Organics Super Balm
What I Love About It: It works to heal and moisturize baby's skin 'super' fast!
This baby balm is USDA certified organic.  It has gentle, organic, moisturizing ingredients like oatmeal, cocoa butter, avocado oil, and beeswax, as well as many healing components like chamomile extract and calendula oil.
It can help treat cradle cap, eczema, chapped skin, rashes, and more.  Your baby's itchy and irritated skin will be calmed by this vitamin-packed, nourishing salve. It has scientifically proven-to-heal ingredients like rosehips and arnica.
The chickweed featured in this lotion has a cooling and healing effect on wounds so you can use this on any scratches your baby gets because you lost those nail clippers. It's especially helpful for those babies with such dryness the skin cracks open.
This hypoallergenic healing ointment is free of petrolatum, mineral oil, sulfates, parabens, perfumes, dyes, and alcohol. It's got loads of good stuff and none of the bad!
1. Badger Baby Balm
What I Love About It:  This versatile balm treats all of baby's skin care needs!
Proudly made in the USA, this product boasts so many certifications and seals! Most importantly it carries the USDA Organic seal, meaning its 95% organic. It's also certified gluten free and GMO free. The cruelty-free leaping bunny logo means it's certified by Cruelty Free International. The Badger brand is also a "Certified B Corporation." I had never heard of this certification before but after reading about it I am all for purchasing off of their company list! A company can only become "B" certified if they are a business that meets high social and environmental standards while ethically balancing "profits and purpose."
The cream itself is even better than all of its endorsements. It has a super simple list of ingredients: Extra virgin olive oil, castor seed oil, beeswax, roman chamomile oil, and calendula extract. That's it, just those healing and moisturizing natural ingredients!  It helps soothe all the common baby skin conditions as well as everyday dry skin. Doubling as a diaper rash cream, this baby balm has it all!
Since it's stored in this convenient little tin, it's perfect for throwing in your diaper bag for all of your on-the-go baby skincare needs. And hey, you don't risk squishing white diaper cream all over the inside of your bag!
Conclusion
Whether you're searching for a lotion for everyday use, need help treating a baby skin condition, or shopping for a baby shower gift, organic nature-based lotions are the way to go.
Since what goes on your baby goes in your baby it is important to research your baby's skincare. Organic lotions are free of ingredients like synthetic fragrances, parabens, sulfates, petrol by-products, and other harsh chemicals.
Whichever one of these organic baby lotions you choose, rest assured that you are making a safe healthy choice for your little one.