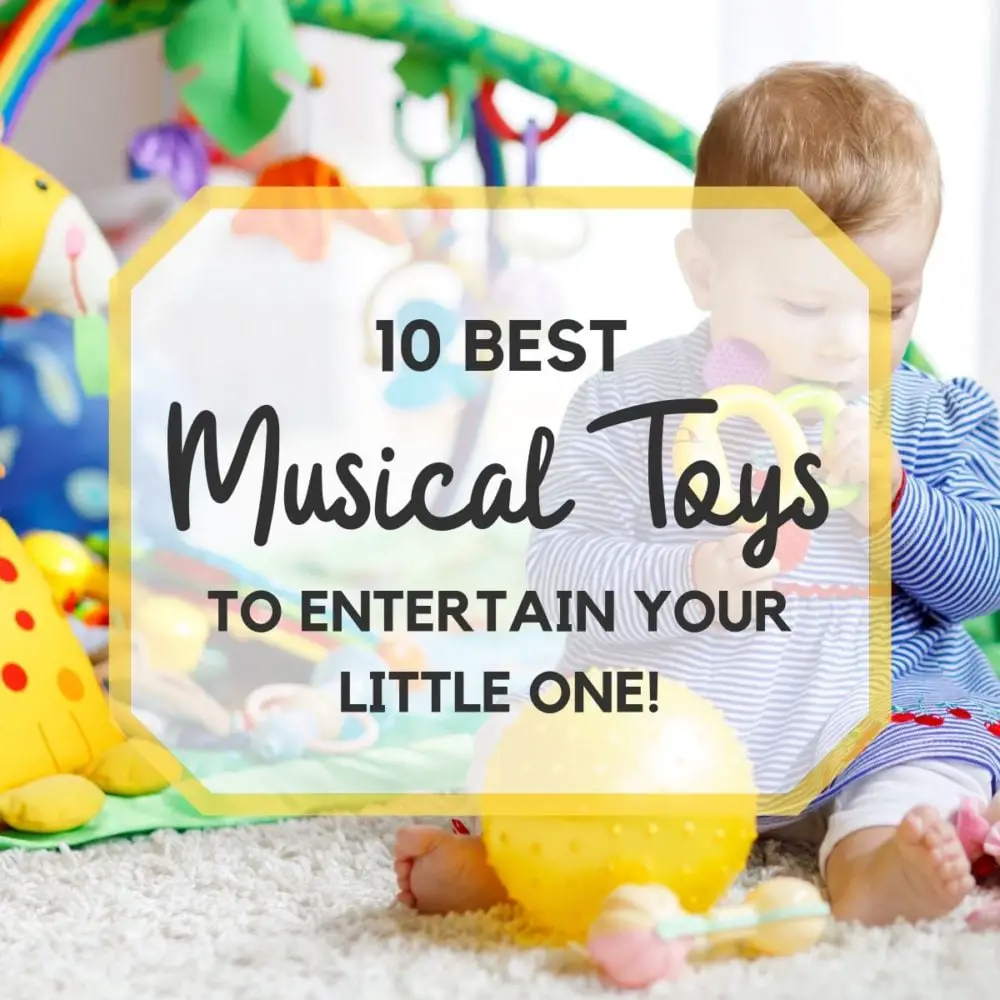 ---
I hope you love the recommendations on this page. Just so you know, I may receive a small commission for any purchases through the links found on this page. I really appreciate your support.
---
Music elicits an emotional response from all of us. We've all had that moment when we hear a familiar tune and it instantly takes us back to fond childhood memories.  I have twin baby girls. I absolutely love to see the reactions on their faces when they hear a silly nursery rhyme song or discover how to make a new sound on their own.
Whether you're searching for the perfect shower gift for an expected baby boy or baby girl, a musical toy will always be a hit with the parents-to-be and their future bundles of joy. Musical toys are not only fun; they help babies learn new skills while instilling in them a lifelong love of music.
Features to Look For in Musical Toys for Newborns 
When choosing the toys for this top ten list I had these important features in mind. They may be helpful on your journey for the perfect baby shower gift!
Volume Control
Sometimes recorded audio on toys can be just too loud for those little ears. Taking it down a notch can make all the difference to the baby. Also, any parent can tell you about a particular toy that drives them absolutely up the wall every time their child plays with it. Volume control can do wonders on a new parent's sanity.  Similarly to volume control, an on/ off switch is a seemingly universal feature that not all toys have.
Sounds Variety
Some products can be great even if they offer only one tune to listen to. Toys that have various songs, sound effects, or words and phrases tend to hold babies attention for longer. Similarly to the volume control, a variety of sounds can be more pleasing to the ear for the adults in the room!
Grows with Baby
Babies grow through stages fast! In no time flat the baby you're shopping for will be through the newborn stage, then on to crawling, sitting up, and standing. You want to buy a gift that they can enjoy for as long as possible.
Educational Aspects
While most parents want their babies to have fun and be entertained with a toy, they really appreciate when a toy can also help little one develop and deepen new skills both physically and cognitively.  When considering what toy to buy, ask yourself: 
"Will the baby learn anything new from this toy?"
"Will the baby be able to practice any new skills with this toy?"
Additional Features
A toy that can play music is wonderful all by itself, but additional features move good gifts to the best list! Does the toy have any lighting effects? Is it portable?  Is it easily storable? Is it easy to clean? This feature might be more important than you realize when a shopping for toys for newborns!
Best Musical Toys to Entertain Baby
Since we've reviewed some of our favorite features to look for, now we can check out our favorite picks for the baby musical toys for newborns to grow with!
10. VTech Musical Rhymes Book
What I Love About It:  Super affordable and has volume control settings with an off switch!
The VTech Musical Rhymes Book is a fun little toy that checks off two things every parent wants their child to learn about: music and literacy! As baby turns the easy-to-grasp pages, nursery rhymes play.
As they grow older they can follow along with the words written on the pages. For now, they can look at the colorful, inviting pictures that match the songs.  A smiling star flashes along with the sounds to keep the baby engaged. Along the side of the book baby will find pictured buttons with different instrument sounds like the trumpet or the maracas.
Babies and toddlers haven't quite grasped the concept of "careful" yet. This book is durable and can take its fare share of drops. What's wonderful about this is how small it is. Perfect for in-car entertainment or to keep those little hands busy at restaurants.
9. Baby Einstein Sea Dreams Soother Musical Crib Toy and Sound Machine
What I Love About It:  Many parents attach it to the headrest in the car to soothe baby on the go! 
This is a musical toy even the youngest of babes can enjoy. Newborns can drift off to sweet dreams with this soother. Fun sea creatures float around to catch the attention of the baby as they lay in their cribs. Soft glow lighting effects make bedtime not so scary.
Easily fitting onto most crib rails, the machine plays lullabies with comforting ocean sounds for a sweet and restful slumber. One great feature is its "Drift-Off Dimmer." With the dimmer, the lights slowly soften and the sounds gradually lower before it shuts off so baby can drift off to sleep.
If baby is not done listening and watching, parents don't have to risk exciting the baby by walking over to the crib to restart the music. This comes with a remote that works up to twelve feet away so one can simply turn the music on and off from a distance without disturbing them.
Older babies can learn how to self soothe by turning the music and effects on all by themselves with the easy to press shell button on the front. When the little one is ready to leave the crib they can use the soother as a night-light.
8. LeapFrog Learn and Groove Musical Table
What I Love About It:  It's the perfect height for Baby just learning to stand on their own!
Babies can get their groove on with over seventy songs and responses.  They will learn about musical instruments like the piano, xylophone, trombone, drum, and guitar.
It plays universally loved children's songs like "Pop Goes the Weasel" and "The ABC Song." Baby can flip the easy-turn pages on the book in the center to switch back and forth from music mode to learning mode. In learning mode your child can press buttons to hear all about numbers, letters, shapes, opposites, and colors.
The Learn and Groove Musical Table is the perfect toy for bilingual families or for those who want their little one exposed to another language. You can toggle between English and Spanish.
The interactive table can sit on the floor for younger babies. When your baby can stand, just add the legs. Whether you chose the pink or green table, your baby is going to have a blast playing with this impressive toy! 
7. Munchkin Mozart Magic Cube
What I Love About It:  Not just fun for babies and toddlers older kids. Even adults will enjoy fiddling with this cube!
Teach baby early about musical composition with this fun toy using the genius of Mozart! I absolutely love how the Mozart Magic Cube teaches baby, in a simple way, how individual instruments combine to create a song.
The cube has six colorful buttons, one on each side, for baby to press.  Five of the six buttons will play real sounds from a single instrument. Instruments included are the harp, piano, flute, French horn, and violin.
Baby can turn on or off any of the musical instruments for endless musical combinations. When your little one presses the sixth button, the "orchestra" button the cube will play all of the instruments together.  Eye-catching lights flash behind the instrument buttons as they play.
A bonus for parents, this toy has two volume settings and an off switch. You probably won't mind the volume all the way up though, as this toy features eight beautiful Mozart pieces.
6. Tiny Love Musical Nature Stroll Stroller Toy
What I Love About It:  There are multiple styles, each is as adorable as the next, and they all include a nifty little fan!
Some babies feel like its torture to be in the car seat or stroller. Even those who enjoy being out and about or chilling in their bassinet need some entertainment.
It is a versatile attachment that can go on most strollers, infant seats, and bassinets. This toy even attaches to most restaurant high chairs. You can tighten the clasps and easily manipulate it to tilt at any angle so you have a steady hold where and when you need it.
Babies can play the music, four different songs, all by themselves. The baby will quickly see that when they play with the little bird, the music starts! This helps teach cause and effect, an important stage in your child's development.
While your baby is listening to the tunes, they have a variety of other woodland themed toys to play with. Featuring lots of different tasks and textures, reflective surfaces, and easy-to-reach teething toys, this is a complete sensory experience on the go!
5. iPlay, iLearn 10 Piece Musical Toy Set
What I Love About It:  The collection comes in a convenient container, to help Mama keep track of all the toys!
A research driven early childhood education teacher created the company that made this set so you know their products are good! This set comes with ten different pieces that make a wide range of different sounds so babies can make their own music.
In addition to friendly characters like a bee and an octopus, the set features music themed rattles like a music note, trumpet, and tambourine. Babies will enjoy the tactile experience from the various textures as well as visually stimulating bright colors.
The rattles have many different twist, shake, press, and pull actions for loads of entertainment. I particularly like the trumpet. Younger babies can shake the rattle in the horn, for sound. They can later practice their fine motor skills on the buttons that make their own unique sounds. Older babies can blow into the mouthpiece for a completely different noise. And that's just one of the toys!
We all know teething can be rough. Each one of these toys is perfect for little ones to gum, as all the rattles are BPA free!  
4. Baby Einstein Octopus Orchestra
What I Love About It:  This is seriously the cutest little light show ever!
It doesn't get cuter than this adorable and inviting octopus! Some babies think tummy time is just the worst, but we know it is necessary exercise. This is a fun, engaging toy that will distract them from the hard workout they're doing.
The fun will last long past the belly stage. Babies and toddlers will still be able to use this sitting up on the floor or by putting it on a tabletop. The large buttons are perfect for little hands at any stage.
The octopus orchestra boasts two different modes for baby to play with. "Discovery Mode" allows the little one to learn the names of different instruments and the sounds that they make. With "Composer Mode" baby can be like Bach and construct their very own symphony!
If the baby's not ready to compose its own music, it's no problem. The bright yellow music note button, front and center, will play beautiful classical music. 
3. Fisher-Price Deluxe Kick & Play Piano Gym & Maracas
What I Love About It:  Comes with two colorful maracas! 
Looking for musical toys? This is a whole gym of musical amusement! This is the perfect toy to start with from day one. Newborns can lie down on the comfortable mat, adorned with a band of animals and music notes, to kick the large piano buttons. As they lay, they can stare up at the toy bar with adorable musical themed toys including a monkey playing the symbols and a panda plaything the guitar.
When baby is ready for tummy time, clip those cute toys directly onto the mat. When the little one is onto the next stage, the colorful piano flips up so it can be played with from a comfortable sitting position. Eventually the babe will completely outgrow the gym but that doesn't mean the fun is over. The piano detaches so the fun can be used wherever!
Not only does the gym physically change as your baby grows, it also has three different stages you can toggle through. The first stage has the piano keys play fun songs. The second stage has the piano keys teach vocabulary. In the third the piano acts as, well, a piano! The piano component also has eye-catching lights that go off with the music for lasting entertainment.
2. VTech Soothing Songs Bear
What I Love About It:  The bear comes in both pink and blue!
This endearing little bear is the perfect friend to help babies go to sleep. This cuddly buddy has an easy to press, glowing star right on its tummy.  When the button is pressed you will hear over forty-seven different songs, sounds, and responses.
Over ten minutes of continuous music plays so baby can enjoy cozying up to the bear while they listen to the melodies. The star button also switches the music off if needed. All of the sounds and phrases are soothing like a calm voice saying goodnight or the comforting sounds of crickets.
This toy is perfect for soothing on the go. It would be great for trips to Granny's house or to hug while at the doctor's. The bear has super soft fabric that babies and parents will both love.  
1. Fisher-Price Light-Up Lion Stacker
What I Love About It:  A fun toy for little babies that just want to play with the rings to toddlers who will enjoy figuring out the puzzle!
Stacking rings are a classic for a reason. They have stood the test of time as a favorite baby toy because they help baby develop physical and mental skills.
Stackers help develop both fine and gross motor skills as babies carefully place the rings on the posts and as they play with the rings in free play.  Cognitively these toys help babies develop their spatial reasoning as they figure out how to stack the rings in order.
All that being said, this toy brings the standard stackers to the next level. The rings are colorful stars that are fun all by themselves. When the rings are put on or taken off the wobbly, anti-tip base, fun sounds play and lights flash. When the little lion is added to the top the good job is rewarded with one of seven different songs.
This twist on a favorite toy is sure to be a favorite of any new parent!
Honorable Mention: Baby Einstein Take Along Tunes Musical Toy
What I Love About It:  Highly rated on amazon with over 10,700 reviews!
This toy is so cute I just had to fit it in as an honorable mention. It plays seven classical tunes from famous composers like Vivaldi and Chopin. The easy grip handle has fun beads for the little one to play with while they enjoy the music and lights.  Parents will love the volume control options.
It's the perfect size to fit in the diaper bag. This is the perfect gift to get any expecting parents, especially as an add-on to a bigger ticket item.
Conclusion
Choosing a gift for a new parent can be a daunting task. There are just so many options! Opting for a musical toy as a gift can guarantee that your present will be loved and enjoyed by the parents and baby alike.
Doing your research and choosing a toy that has volume control, song and sound variety, educational aspects, and additional features like those on this list will make your gift a hit at the shower!