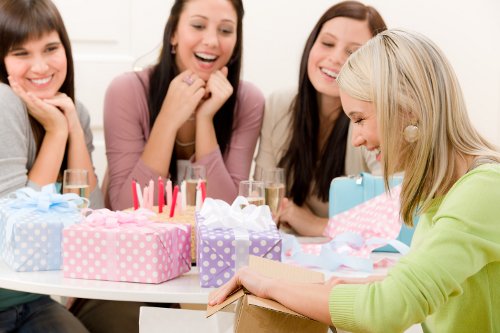 Where there is a group gathered together for whatever cause, comes a need for some good music! Baby shower music can simply just be background noise, or it can be the element of the shower that ties everything together.
Basically, you can use it however you need it. If you are trying to achieve a certain mood at the shower, playing a few baby shower songs that have the tone you are seeking can be very helpful, as well as enhancing the theme altogether!
You can't really go wrong; people naturally love a good beat for their feet! Just don't make it an after-thought of your baby shower checklist.
Baby shower music
There is a few different types of music that tend to be good for a baby shower setting, but "good music" is subjective, so it all depends on the taste of the mama-to-be. Also, take into consideration the common taste of music amongst the guests that will be attending. These two things coupled together will ensure that you make the right selections of baby shower songs.
Here's a few different types of baby shower music suitable for baby showers along with some baby shower songs you should consider:
Classical
Everyone can enjoy the tasteful sounds and intricate notes from the world's famous composers. Playing classical music can add a nice touch of elegance to the shower, and really compliments a shower that is more of a formal theme. Also, if it's in budget, consider hiring live entertainers to play the violin or piano during the shower; one who can take special requests is ideal!
Air: Johann Sebastian Bach
Preludio: Johann Sebastian Bach
Overture: Wolfgang Amadeus Mozart
Lacrimosa: Wolfgang Amadeus Mozart
Allegro Con Brio: Ludwig Van Beethoven
Fur Elise: Ludwig Van Beethoven
Moderato: Pyotr Il'yich Tchaikovsky
Canon in D Major: Johann Pachelbel
Allegro: Antonio Vivaldi
Nocturnes: Frederic Chopin
Fun
Every baby shower should be fun, and music can help accomplish this. Try playing some pop, hip hop, or even some old school classic rock, and watch your guests get into it all and sing along! Want to make it even more fun and funny? Play some music from boy bands that the mama-to-be loved as a child. It will take no time at all to remember all of the words to the songs and reminisce about her past man-crush!
One Love: Bob Marley
We Like to Party: Vengaboys
Everybody: Backstreet Boys
Baby One More Time: Britney Spears
MMMBop: Hanson
Spice Up Your Life: Spice Girls
Bohemian Rhapsody: Queen
Don't Stop Believin': Journey
Thriller: Michael Jackson
Single Ladies: Beyonce
Upbeat/Bumpin'
If this is not a formal-style baby shower, then upbeat, happy music is probably in order! Upbeat music is music that makes people just want to get up and dance, chat, and mingle with fellow guests. Whether you're looking for some good dance songs, or just some popular, mainstream hits, here's some great baby shower songs that your guests will love!
Make sure your screen for any explicit lyrics based on your audience's tastes. Most songs are available in an "edited" version which removes most obscenities.
Sexy and I Know It: LMFAO
Party Rock Anthem: LMFAO
Rumor Has It: Adele
Bangarang: Skrillex
I Like to Move It: Madagascar soundtrack
Rock That Body: Black Eyed Peas
Boom Boom Pow: Black Eyed Peas
Hey Ya: Outkast
All The Small Things: Blink 182
Girls Just Wanna Have Fun: Cyndi Lauper
Baby Shower Music Considerations
Here are a few things to be considered when making your baby shower music selections:
Ask mom-to-be what she doesn't like: And avoid it. At. All. Costs. The last thing you want to do is annoy the her at her own baby shower! Don't make pregnant women angry!
Don't make pregnant women angry: Did I mention not to make pregnant women angry?
Take requests: In the rare event that your music selection is bombing at the shower, take requests from guests, using the radio as a last resort.
Switch it up: Sometimes it's a good idea to change up music style. Something more upbeat for while the guests are playing games, and perhaps something more relaxed when it's time to eat and socialize.
Avoid distasteful music: Chances are, the mom-to-be's mother and even her grandmother will be present, so avoid offensive, distasteful music. Save it for the after party!
Now that you have a general idea on some good music for baby showers, it's time to start your homework to figure out what you will be playing. Don't forget to refer to tip #2!