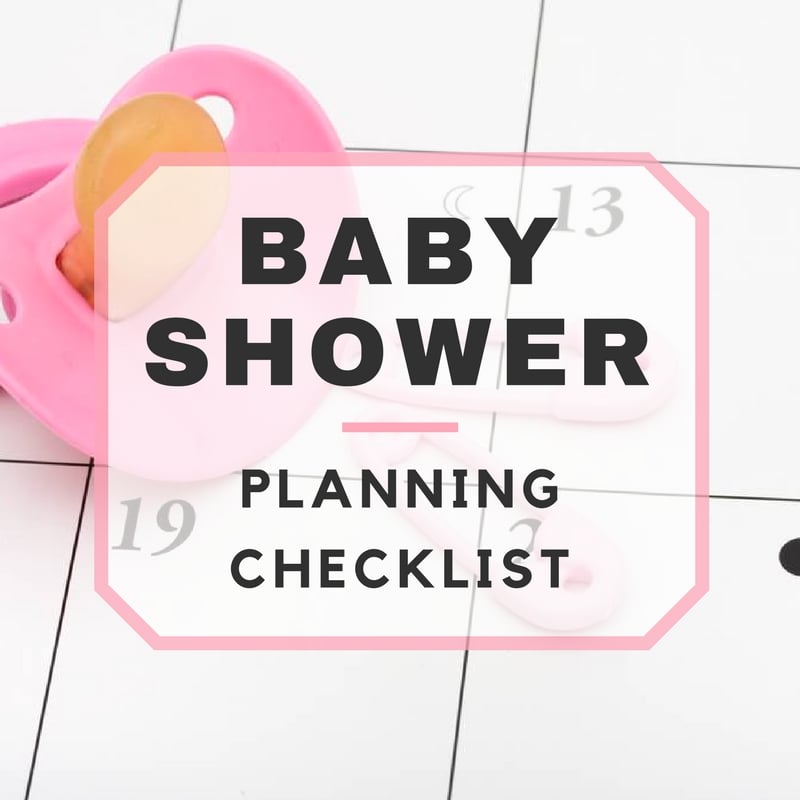 Baby showers and baby sprinkles are such great ways to help the mama-to-be and baby-to-be get everything they need.  It is important that the mother focus on taking care of baby and herself immediately postpartum, and not have to worry about running to the store.  Not to mention, baby showers are just a fun way for everyone to get involved!
If you are the thoughtful one who has decided to plan the baby shower, then you likely see all of the work ahead of you.  In order to plan a successful baby shower, it's best to get started a few months before the planned shower date, so that you can ensure you don't miss a thing.  Wouldn't it be helpful to have some type of baby shower planning checklist?  Yes!
Here is a baby shower planning checklist and timeline of everything and anything that you might need to throw the baby shower.  Also, never be afraid to ask for a helping hand; many people would jump on the opportunity to be a part of the planning!  Also, No procrastinating!
Baby Shower Checklist
3 months before:
| | |
| --- | --- |
| | If the mama-to-be is finding out the gender, you will have about three to four months to plan the shower, so the first thing you should do is set a date!  The date should be no more than one to two months out from the estimated "due date." |
| | Maybe it's you! |
| | Preferably an early afternoon time, before the mama-to-be is completely exhausted. |
| | Set a realistic budget and stick to it! |
| | Everything will be centered around this.  Hint: Center the theme around the nursery theme, so decorations can double as nursery decorations! |
| | Consider the season.  Avoid the great outdoors if it's too cold or too hot!  It's important to book in advance because hotspots book up quickly! |
| | Consult the mama-to-be, unless it's a surprise, then get feedback from family and friends. |
| | |
| | Don't try to do it all on your own; it's overwhelming! |
6 weeks left!
| | |
| --- | --- |
| | Make sure to include date, time, location, and any special instructions.  The RSVP date should be about one to two weeks from the date of the shower. |
| | Consider easy to make foods. Buying already prepared food is much more expensive, but can save you lots of time. |
| | Begin shopping for decorations, favors, game prizes, and any needed supplies. |
1 month to go!
If you were planning on getting any party rentals, now is a good time to call around and make some reservations.
Game supplies will depend on what games you are playing, so here are some tips for planning the games:

Have at least three games planned.
Make sure at least one game centers around the mama-to-be/pregnancy.
Include a mix of group games and single games.
Take into account if the shower is being held indoor or outdoor.
Avoid any game that might gross out or embarrass the mama-to-be.
Keep the party theme in mind.

 Never forget a pregnant woman's cake!
1 week left!
| | |
| --- | --- |
| | Follow up on no-reply RSVPs |
| | Put party favors together |
| | Finish up any DIY decorations |
3 days left!
| | |
| --- | --- |
| | Clean the house (if the shower is in home.  Wait until the day before if you have busy kids!) |
| | Get those decorations up! It's easy to underestimate the amount of time it takes to wrap those streamers around every surface of the house! |
| | Finish any shopping that you might have left. |
| | Call all vendors you're using such as the baker, florist, etc to make sure everything is on schedule and there are no surprises. |
The day before:
| | |
| --- | --- |
| | Get any cleaning that needs to be done out of the way. |
| | Get all of the chairs and tables that are needed into the room. |
| | Prepare all food that's not being cooked at the shower (i.e. don't start grilling burgers and chicken yet!) |
| | Finalize all of the decorating. |
Day of the shower: Crunch time!
| | |
| --- | --- |
| | It's amazing what can get dirty in a day, especially if you have kids. |
| | Pick up the cake, flowers, balloons and anything else you may have ordered. |
| | Do one last sweep to make sure all decorations, food and other arrangements are in place. |
Baby Shower Shopping Lists
Below are some shopping lists for each of the above stages that you might find useful.
3 Months Before Shopping List
Notebook
Binder
Writing utensils
Save-the-dates
Envelopes
Stamps
Planning Calendar
Glass of wine 😀
6 Weeks Before Shopping List
Invite-related:
Tip:  Purchase invitations online at Etsy or Zazzle.
Invitations
Envelopes
Stamps
Decorations:
Tip: Be sure to cover all bases: Walls, ceiling, floor, doors, windows, tables, mailbox, road signs for direction, and so on.
Balloons
Streamers
Centerpieces
Stuffed animals
Pictures
Banners
Backdrops
Table cloths
Confetti
Pompoms
Candles
Art supplies to DIY
Favors/Game Prizes ideas:
Since there is no one-size fits all for favors and game prizes, here's a list of ideas for you!
Goodie bags
Bottles of wine/liquor
Candles
Picture frames
Stuffed animals
Keychains
Mason jar treats
Gift cards
Body lotion
Bath gift baskets
Supplies:
Tip:  Make a list of what you already have and go from there.
Plates
Napkins
Forks
Spoons
Knives
Cups
Straws
Cake Server
Serving spoons
Cocktail forks
Skewers
Fondue fountain
Cupcake stand
Cake stand
Grill
Serving dishes
Casserole dishes
Labels
1 Month Before Shopping List
Rentals:
Photo booth
Entertainers
Bounce houses
Cotton candy machine
Chairs
Linens
Food/beverage:
Cake
Dips
Condiments
Sandwich platter
Chocolate/candy
Punch
Fruit Juice
Soda
Wine
Water
Other:
Flowers
Other game supplies needed
1 Week Before Shopping List
No shopping list for this stage.
3 Days Before Shopping List
Food:
Cupcakes
Ice cream
Fruits
Veggies
Pastries
Bread
Salad
Cookies
Brownies
Rice Crispy treats
Cake pops
Day Before Shopping List
No shopping list for this stage.
Day of Shopping List
We don't procrastinate! No shopping list for this stage either 🙂
Baby Shower Checklist Wrap-up
Now that you have a good on what you will need form this baby shower planning checklist, it's time to get organized!  Be sure to keep all of your baby shower planning stuff in one place to avoid anything getting lost.  A binder is a good idea because it can help keep your organized while keeping paper secured in a single location.
Have fun planning it all, because your attitude during the planning process will surely show at the baby shower.  What are you waiting for?  Make that guest list and address those invitations!  The clock is ticking, and the mama-to-be isn't getting any less pregnant (yet)!