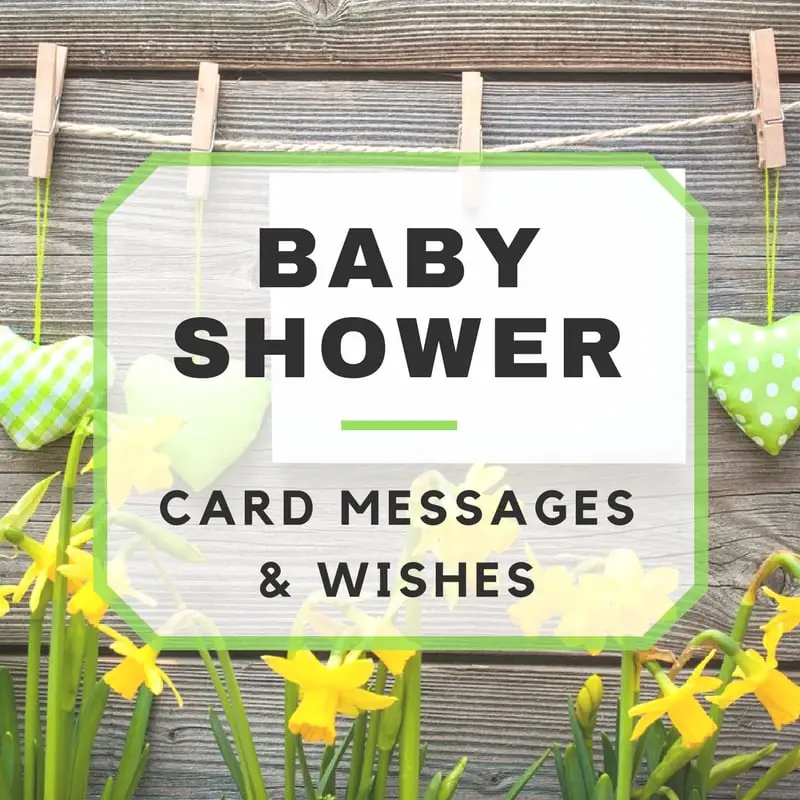 For any occasion that involves the custom of gift giving, comes that other custom of affixing a nice card to that gift!
Traditionally, when you give someone a card with a gift, the card is read first and then it's on to revealing the gift itself.
Everyone likes receiving cards, even if there is no gift accompanying it so it is important that the card be thoughtful and from the bottom of your heart.
Card Messages
An occasion such as a baby shower calls for a card that is no less than perfect to you, never just settle on a card! If you think it's easy to make a pregnant woman cry, just watch the waterworks when you find the card that deeply touches her heart.
Personal baby shower card messages should be written in a card, even if it is storebought and contains a greeting already printed inside. Some things you might want to include:
Congratulations.
Your feelings about the impending arrival.
Words of encouragement.
Words of advice.
Well wishes.
What ways you are willing to help with baby.
Greetings
If you are making your own card, this is a beautiful thing! You'll definitely need to include some kind of greeting message inside, so here's some ideas:
Wishing you and your family the best of luck with the new baby and beyond!
Here's to a new bundle of joy that's about to bless this world.
Thinking of you and wishing you a safe and healthy delivery.
A mother is something special, a gift not every woman can experience. Embrace it with all of your heart and soul, for it goes by so fast.
The very best of luck to you and yours on the journey to soon begin!
If holding a baby is considered spoiling it, then spoil away!
A mother's work is never done, and for you it's just begun! Good luck, mama-to-be!
When your bundle is finally safe in your arms, count your blessings and never let go.
You are about to experience the greatest joy in life, motherhood. Wear it proud!
Motherhood is trading in your body, personal life, and alone time all for one thing that's even greater; the title of "Mom."
Here's to your last few weeks of waiting! May your little blessing become a big blessing really soon!
When life gives you lemons, make…babies! They cheer anyone up!
Quotes
Every emotion about pregnancy and babies has at some point been expressed by another, which ultimately became a quote. You can find the perfect quote that describes your feelings exactly. Try one of these:
"Sometimes when you pick up your child you can feel the map of your own bones beneath your hands, or smell the scent of your skin in the nape of his neck. This is the most extraordinary thing about motherhood – finding a piece of yourself separate and apart that all the same you could not live without." -Jodi Picoult

"Being a mother is an attitude, not a biological relation." -Robert Heinlein

"No woman can call herself free until she can choose consciously whether she will or will not be a mother." -Margaret Sanger

"If evolution really works, how come mothers only have two hands?" -Milton Berle

"Motherhood is near to divinity. It is the highest, holiest service to be assumed by mankind." -Howard W. Hunter
Short Poems
Poems are a sweet way to express your feelings to anyone you love or care for. For a card, keep it short and sweet!
Giggle, Giggle
Giggle, giggle, baby tickles!
Belly laughs are so fun!
Peek-a-boo, I see you!
Giggle, giggle, little one!
Newborn
A lock of hair,
A dimpled cheek.
The newborn smell is oh so sweet!
Kisses, cuddles,
Little coo
Melts your heart as they look up at you!
The nights go by
Whispers in the midnight,
Little baby wakes.
The stars shining brightly,
As that little baby, you embrace.
Embrace the joys of motherhood
The nights will be gone too soon.
Soon enough, you'll say goodnight,
And silence will fill the room.
Only you will know the perfect message to write in a card to that special person in your life who's expecting another special person in their life. Although you can go with a card from the store, try first to make your own and just see what you can come up with; you likely won't be disappointed!