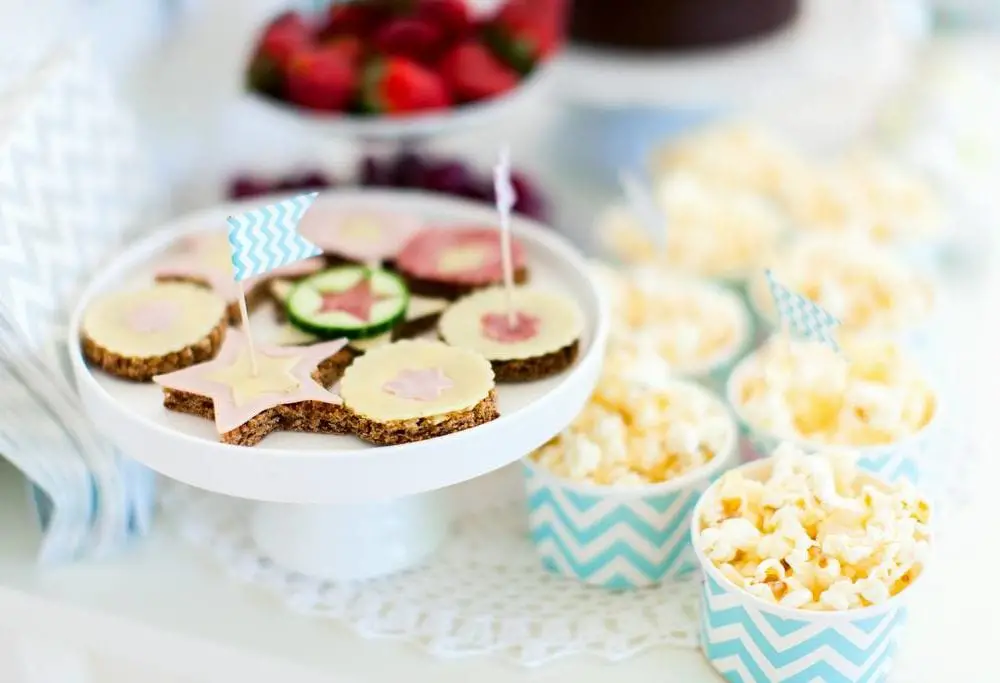 Finger lickin' foods belong at every baby shower. Food is by far one of the most anticipated parts of any given event or party, so it's important to make it right and make it good!
When it comes to deciding which baby shower finger foods to serve, the choices are abundant and the world is your oyster. (Mmmmm…oysters…)
Baby Shower Finger Foods
Here is a list of baby shower finger foods that you don't want to miss!
Bacon-wrapped jalapeno poppers: If you don't like jalapeno poppers, then you certainly haven't tried them wrapped in bacon. I've said it once, and probably a thousand times, but I'll say it again: Everything is better with bacon!
Chicken quesadillas: Quesadillas are deliciously addictive, and not too hard to make, either! You don't need to go through a drive-thru for these, either!
Garlic chicken bites: Garlicky, chickeny goodness in a golden, breaded ball of crunchy, crispy deliciousness. I think you get the picture!
Roast beef horseradish spirals: There's just something about little rolled up treats that everyone just loves. Think outside the box with this simple recipe that everyone will drool over!
Baked potato skins: We all know these are the devil for anyone's diet, but who's on a diet at a baby shower anyway?
Baked chicken spring rolls: These are a must-have, especially if you are doing an asian-themed menu. You can always substitute the chicken for something else if you wanted to switch it up! Make some without the chicken for vegetarians.
Baked coconut shrimp: Coconut shrimp is one of the best ways to eat shrimp! Just ask that one guy from Forrest Gump!
Crispy coconut chicken fingers: Don't like shrimp? No problem, here is a recipe that calls for chicken instead! Chicken fingers make the perfect baby shower food, if you ask me! It doesn't get much more fingery than fingers!
Artichoke turnovers: Artichokes rock, and turnovers are delicious, so it's no surprise that mixing the two is even better! Just do it.
Sausage-cheddar balls: These are dangerously addictive, proceed with caution and make way "too many."
Mini Pizzas: Everyone loves pizza, and these are just the perfect little portions for any plate.
Mini cheesecakes: These are just to die for, literally, it would be worth it. While you are serving up mini everything else, be sure to pull these bad boys from the fridge for dessert!
Shrimp cocktail: Beware of this dish and be sure to have plenty because there is always that one person who will stand by it the whole time, tearing it apart shrimp-by-shrimp. With two sauces, you can't go wrong!
Modern cheese balls: These are just like regular cheese balls, just more "modern." Just take a look at the recipe and see for yourself!
Ham and cheese skewers: Anything on skewers makes for good baby shower finger foods, and these are just the perfect snack for all guests!
There, now you have 15 great baby shower finger food recipes. As I always say, always make "too much" because it's better to have leftovers, than it is to run out!