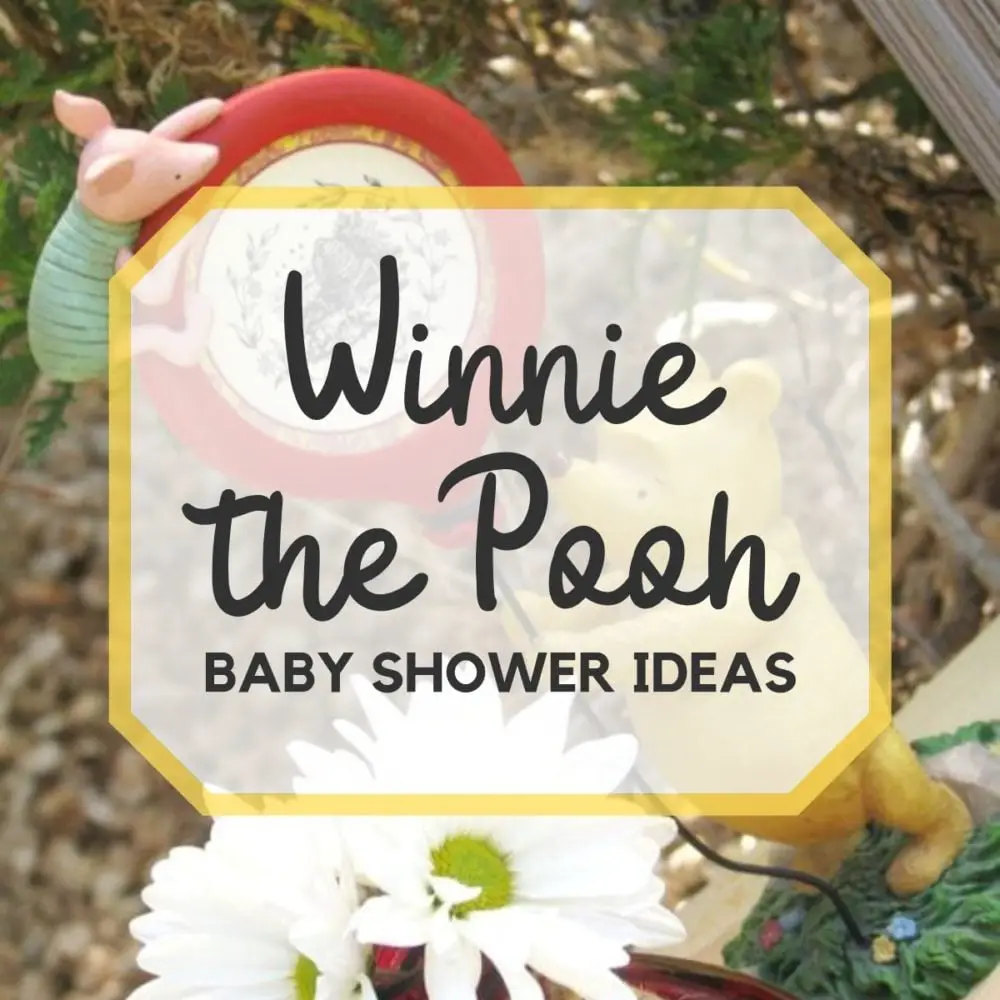 ---
I hope you love the recommendations on this page. Just so you know, I may receive a small commission for any purchases through the links found on this page. I really appreciate your support.
---
If there's a rumbly in your tumbly, then this calls for a Winnie the Pooh baby shower!
Whether or not you know the gender, get carried away by Pooh and his friends with this beautiful, gender-neutral baby shower.
Winnie the Pooh Invitations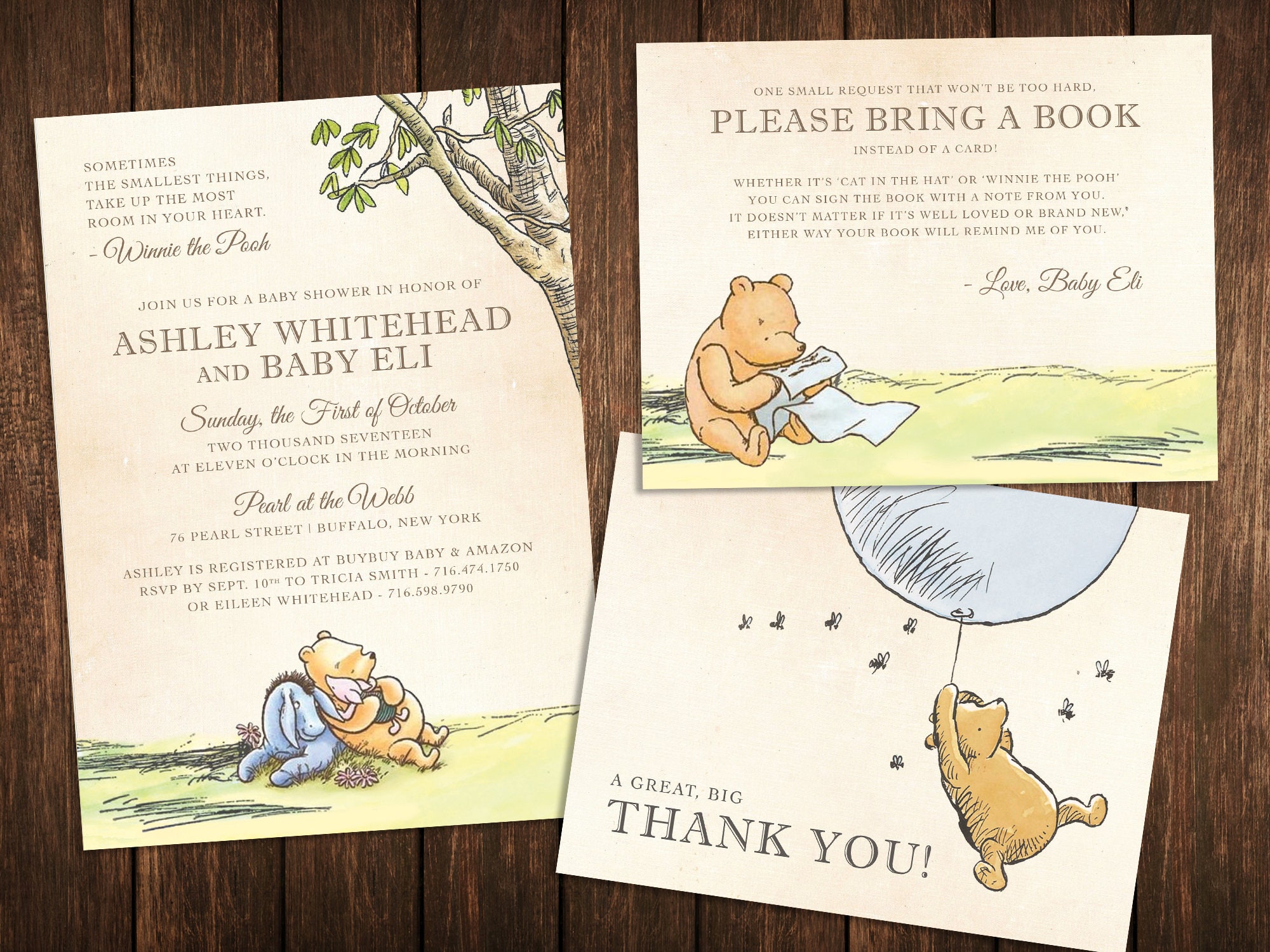 Aside from all of the characters from Winnie the Pooh, you need to have a guest list so that you can send out those Winnie the Pooh invitations!
Don't waste your money on invites at the store that everyone has already seen, though.  Go for something unique for such a special occasion.  By ordering the invites online from Etsy, you are supporting a small business while getting a product that's custom made!
These adorable ones are from Ashwood Ink, featuring Pooh and some of his friends from the Hundred Acre Wood, Piglet and Eeyore. What I adore about this bundle is the "Please Bring a Book" note, asking guests to bring a book instead of a card. What a sweet way to build baby's library!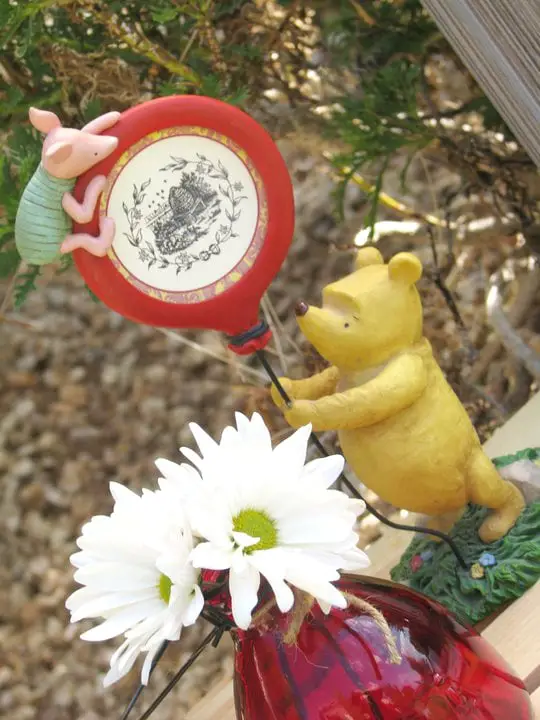 Winnie the Pooh Baby Shower Decorations
"Nobody can be uncheered with a balloon,"  and nobody says it quite like Winnie the Pooh!  There really is no theme-specific colors unless you choose your own, when when it comes to balloons and streamers, these colors are solely up to you.  A few other Winnie the Pooh baby shower decoration ideas:
Winnie the Pooh and Friends
This is a must.  Stuffed animals are also great for favors and prizes, or for the mama-to-be to save for the baby.  Make sure somewhere in the room, you have Pooh attached to a bundle of balloons and "drifting away."
Honey Pots
Paint flower pots to look like honey pots from Winnie the Pooh, plant flowers in them and viola!  You have beautiful room decorations or table centerpieces!
This is a great opportunity to pick out a special gift that Mama can keep for lasting memories of her adorable shower!
Hundred Acre Wood
The home of Winnie the Pooh.  Decorate the main table, gift table, or whatever big table that will be used a lot as the Hundred Acre Wood by using tree stumps, branches, fake grass, and the characters.  You can get really creative with this one; it's a cute idea.
Winnie the Pooh Themed Food- And it's not just hunny!
Let's face it, one of the reasons why baby shower's are so enjoyable is because of the good food!  Food is essential for any shower, and can also really add to the shower's theme.  As far as Winnie the Pooh baby shower food ideas, I've made these picks:
Beehive Cupcakes
These are any flavor cupcake that you desire, with the frosting on top decorated to look like a beehive with bees on it.  Pooh loves honey and honey is stored in hives!
Tigger Tail Pasta Salad
This is pasta salad made with the twisted pasta so that the pasta noodles resemble tigger's tail.  You may choose to dye the pasta orange to give it more of a "Tigger-effect" or leave it as-is.
Piglets in Blankets
Just pigs in a blanket with a much cuter, pooh-ier name!  Nothing special is required for these, other than a cute sign by the plate.
Honey Lemonade
Every shower needs a themed drink, and this is it!  Serve up this delicious honey lemonade recipe on a warm afternoon for a refreshing beverage everyone at the shower will enjoy!
Winnie the Pooh Themed Baby Shower Games & Activities
When it comes to fun, the characters of Winnie the Pooh know how to do it best.  Skip the baby shower game basics and try these great ideas for a Winnie the Pooh baby shower!
Find and Pin the Tail on Eeyore
Poor Eeyore has lost his tail again!  Hide "Eeyore tails" in plain site around the room, each guest must find one, then get blindfolded and try to pin it in place on Eeyore, most likely sitting over there in the corner. For this printable game poster, head on over to the Etsy shop LaArtistaSamantha.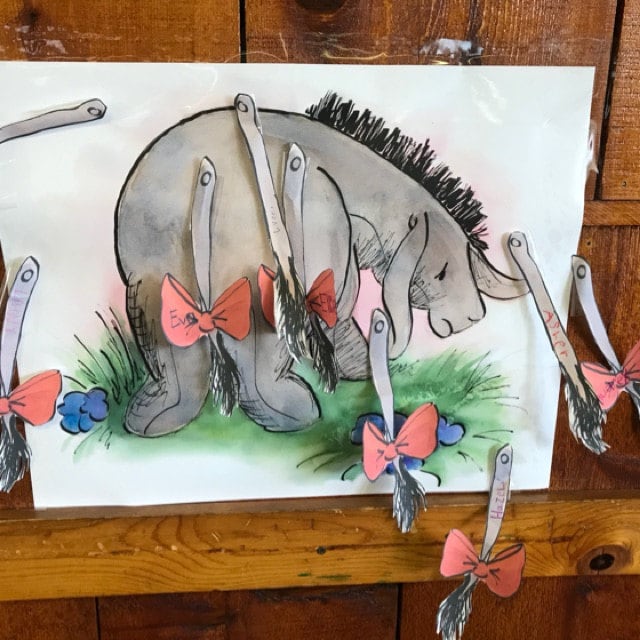 Tigger's Bouncy Race
This requires medium-sized yoga balls and willing participants.  Basically, the contestants must compete in a bouncy race across the room!
Christopher Robin's Scavenger Hunt
This is a scavenger hunt through the Hundred Acre Wood!  Follow the clues given at each stop to the next, and whoever reaches the finish first is the grand prize winner!  (You choose the prize, of course!)
The Many Adventures of Winnie The Pooh
Whether you play the movie as a feature during the baby shower, or just in the background for added whimsy, the film "The Many Adventures of Winnie the Pooh" is almost a necessity for a Winnie the Pooh themed baby shower. Make sure you include some popcorn for your movie-watchers!
Winnie the Pooh Party Favors and Game Prizes
It was Winnie the Pooh who said "How lucky I am to have something that makes saying goodbye so hard." Make it memorable with party favors.
Honey Bears
Send your guests off with a sweet thank you and goodbye by giving away those bear-shaped bottles of honey, little jars of honey,  or even those wooden honey dippers!  It doesn't get much sweeter or more aPOOHpriate than honey!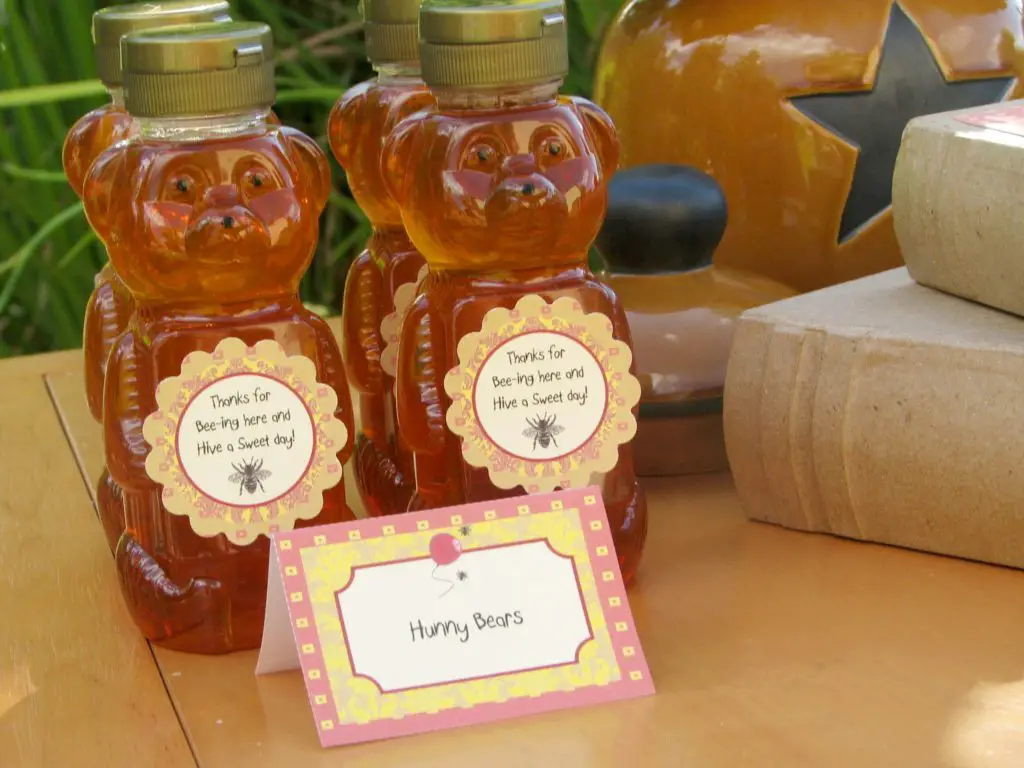 Honey Candies
Another option is to give your guests a little sweet treat in the form of honey flavored candies! I bet Pooh would love these deliciously sticky drops! Put them in a glass jar with a string and tag for a quick and easy favor.
Bouquets of Flowers
Bees love flowers, bees make honey, Pooh loves honey… it just feels right! Put them in a cute keepsake vase for an even sweeter presentation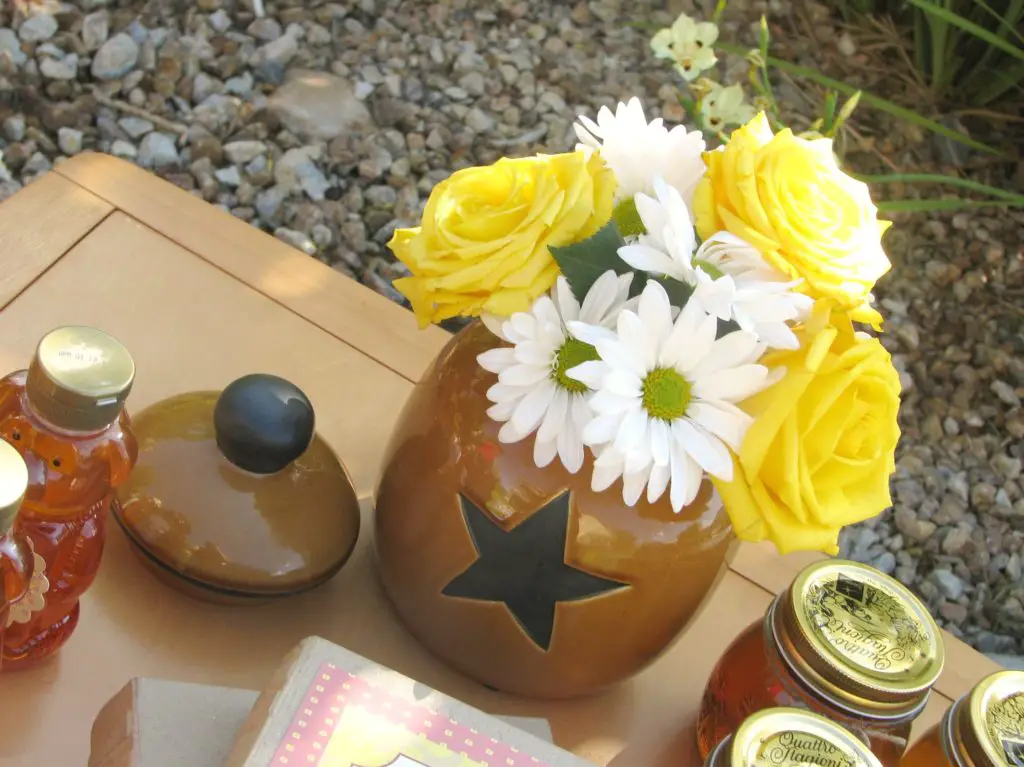 Burt's Bees Anything!
I am an avid believer in giving favors and baby shower prizes that people will actually want! These honey beeswax lip balms make awesome favors for your guests, while a gift set would make a great prize for winners of your baby shower games!
Share This Theme on Pinterest