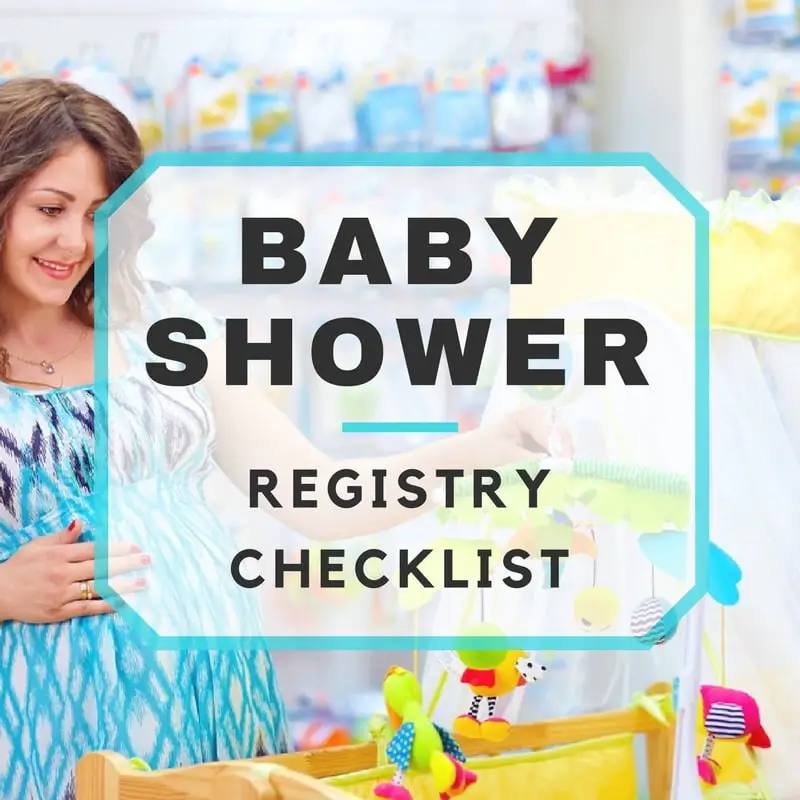 Great news, baby is on the way! Having a baby is life's biggest blessing, and a perfect reason to celebrate, indeed.
One of the things that is completely necessary when having a baby, especially if it is the first child in the family, is to have a baby shower to stock up on anything and everything baby!
It's no secret that babies are expensive and require a lot of things that you don't ordinarily have laying around. Although, you'll realize after a few months that half of the stuff you registered for is not really "needed," it's still nice to receive things for the baby as gifts from other people who care to.
Starting Your Baby Registry
Creating a baby registry for your baby shower should be a fun experience, but can totally be overwhelming for new moms-to-be. How do you know exactly what a baby needs when you haven't had one yet? By following a baby shower registry checklist!
Here, we are making it easy for you to not miss a single thing. Go down this complete categorized baby shower registry checklist, and have fun getting carried away at a store!
For The Nursery
Crib
Mattress
Waterproof mattress cover
Crib set (sheet, blanket, bumper, curtains, diaper stacker, and pillows)
Extra fitted crib sheets
Crib rail covers
Bassinet or co-sleeper
Bassinet/co-sleeper sheets
Soft blankets
Receiving blankets
Changing table
Changing table pad
Changing table pad covers (at least 2)
Dresser
Nightstand
Wall Decor
Lamp
Rocking chair (for mom, too!)
Humidifier
Storage baskets
Clothing hamper
Hangers
Crib mobile
White noise generator
Baby monitor
Baby memory book
On the Go
Travel system
Infant car seat
Additional car seat base for second car
Convertible car seat
Car seat protector
Car shades
Stroller
Ergonomic baby carrier (Ergobaby makes great carriers!)
Diaper bag
Shopping card cover
Insulated bottle holder
Portable changing station
Disposable diaper bags
Nursing cover (personal choice)
Car seat toys
Car mirror (so baby can see itself, and you can see baby)
Clothing and Accessories
Hats
Socks
Scratch Mittens
Onesies
Sleepers
Sleepsacks
Jackets
Pants
Shorts
Skirts
Leggings
Long sleeve shirts
Short sleeve shirts
Bathing suit
Swaddles
Shoes (They'll be walking before you know it!)
Tights
Dresses
Suits
Hair clips
Head bands
Baby sunglasses
Baby laundry detergent
Anything else you find irresistibly cute!
Bath Time
Infant tub
Inflatable tub (for when baby can sit up unassisted)
Tub mat
Baby towels
Hooded towels
Wash cloths
Rubber bath toys
Bath toy storage
Foam letters
Bath books
Baby washshampoo
Baby oil
Baby lotion
Towel warmer
Knee mat/Elbow cushion
Temperature ducky (Munchkin makes one)
Tub spout cover
Toys and Playtime
Infant swing
Play gym
Crinkle books
Board books
Mirror toys
High-contrast toys
Bouncer/vibrating seat
Playard
Jumper (Jumperoo is always a winner!)
Stationary playseat
Baby DVDs
Stuffed animals
Glow Worm
Rattles
Diaper Duty
Wipes
Wipe warmer
Diaper rash cream
If using disposables:
Disposable diapers
Diaper Genie
Diaper Genie refills
If using cloth diapers:
Cloth diapers of choice
Inserts (if applicable to type of cloth diapers)
Cloth wipes (optional)
Diaper pail (garbage pails with a lid work well!)
Large wet bag (for diaper pail)
Small wet bag (for on-the-go)
Clothes line (to keep those diapers looking their whitest white!)
Clothes pins
Cloth diaper detergent
Feeding
High chair
Booster seat
Portable feeding chair
Bibs
Spoons
Forks
Plates
Cups (all stages)
Snack holders
Pacifiers
Pacifier clips
Bottle brushes
Burp cloths
Food processor (Baby Bullet is great!)
Baby food cookbook
Baby food storage system
Baby dish detergent
If formula feeding:
Bottle warmer
Formula maker
Formula dispenser
Bottle and nipple brush
Dishwasher bottle basket
Bottle drying rack
Bottles (all sizes)
Nipples (all flow levels)
If breastfeeding:
Breast pump
Extra bottles that go with pump
Milk storage bags
Milk storage bottles
Breast pads
Breast wipes
Nursing shirts
Nursing bras
Nipple cream
Nursing pillow
Nursing pillow cover
Health and Safety
First aid kit (One for home, smaller one for the car)
Infant Tylenol or Motrin
Teething gel or tablets
Amber teething necklace (Yes, these work!)
Cold pack
Colic medicine
Thermometer
Cradle cap comb
Hair brush
Nail clippers
Nail files
Medicine feeder
Gum brush
Teething rings
Teething toys
Teething necklaces (for baby to chew on and mom to wear)
Nasal aspirator
Baby gates
Doorknob covers
Outlet covers
Cabinet locks
Drawer locks
Toilet lock
So there you have it, a complete baby shower registry checklist! As stated earlier, you will not need everything that is on this list, so it is up to you to use your best judgement. Keep in mind, less is more. Meaning, the less stuff that you register for that you actually need, the more likely it is that you will get what you want! Happy scanning!