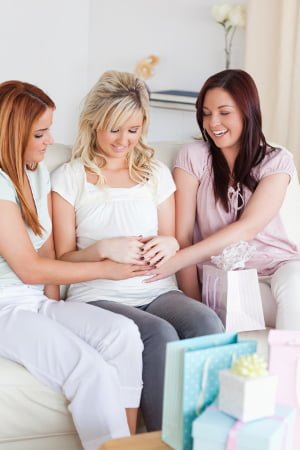 ---
I hope you love the recommendations on this page. Just so you know, I may receive a small commission for any purchases through the links found on this page. I really appreciate your support.
---
Baby showers are a fun way to spoil the new baby and parents-to-be, but are also a great distraction for the little mama while she's dragging through those third trimester discomforts. An afternoon of pampering by friends and family? What girl wouldn't love that!
A great baby shower requires lots of planning and prepping to make it just perfect! Since you only have a short amount of time to plan, you best get started!
Planning the Perfect Baby Shower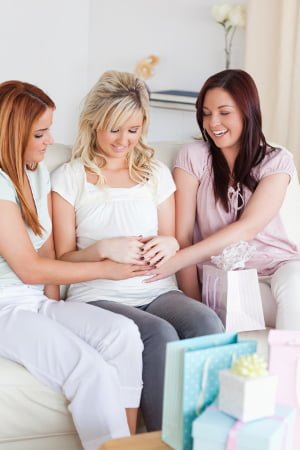 If you're thinking about hosting a baby shower for someone, it's important to find out if anyone else has the same intentions.
Call around; friends, family members, let them know your plans and see if they're interested in helping out. Planning a baby shower can be easy and fun if you find the right group of people to help out!
To make the planing process even easier, I've put together a baby shower checklist planner to help you keep track of what tasks you need to remember before the big day.
Your baby shower checklist will likely be more in-depth, but it's good to have a few starting points to get your creative juices flowing!
The first thing you'll need to have on your baby shower checklist is a date for the baby shower.
If you're wondering when to have a baby shower, wonder no more; 1-2 months before baby's due date is the ideal time to host a shower.
Baby Shower Themes
Before doing anything else, you and your co-conspirators should pick a theme for the baby shower. A theme will affect every other aspect of your baby shower planning, from invitation designs, games you might play, and the food you plan on serving.
Themes can be based on anything, movies, fairy-tales, cartoon characters, hobbies, and other interests. You can also choose a more generic theme revolving around specific color schemes or animals.
Example: A safari or jungle theme baby shower is an easy and versatile theme for girl or boy baby showers. Lots of cute animals and vibrant colors? Always a good bet!
Need some inspiration? Check out:
Baby Shower Invitations
Now that you've picked your theme, you can move onto the guest list and invitations.
This is a good time to let the expectant mom help out, by asking her for a list of people she'd like to see at a baby shower. If possible, get addresses, or at least phone numbers, of each person so you'll be able to contact them to find out where to send their invite.
Your shower guest list will also let you know how many invitations you'll need to purchase.
 Baby shower invitations should include the following information: 
Who the baby shower is for

Location of the shower
Date and time
Phone number to RSVP
Baby shower registry information
Name of baby, if known (for personalized gifts)
Baby Shower Games
Unless you just want everyone just sitting quietly around the room, it's probably a good idea to plan some fun and interactive baby shower games!
Your shower should include a mixture of individual and group games. Individual games, such as Baby Shower Word Searches and Baby Shower Word Scrambles, give guests something to do while they snack and socialize. Group games, like Baby Bingo and funny baby shower games, like "How Big is Mommy's Tummy?", are a great way to include everyone in the fun.
Don't forget to purchase a few small prizes for the winners of each game! Prizes give guests incentive to play and help build excitement. Possible prizes can include:
$5-$10 gift card (Starbucks, Cold Stone, Victoria's Secret)

Jar candle
Scented body lotion
Bath or hand soap
Gourmet chocolate/candy
Baby Shower Food Ideas
Everyone's favorite part of attending a party is of course, the food! That doesn't mean you need to spend hours in the kitchen cooking a formal 5-course meal or anything, this is a baby shower after all!
Instead, keep things simple by sticking to appetizers and finger foods. These are easy for guests to munch on while mingling and makes the atmosphere more casual and comfortable.
And you can't forget the sweets! Cake and/or cupcakes are a baby shower staple and are a great way to tie in the shower's theme. Cute cake designs and cupcake toppers bring additional color and creativity to your dessert table!
Baby Shower Decorations
Yay Decorating! This is probably one of the funnest parts for baby shower planners! When picking out and buying decorations, keep your theme in mind, as it will likely play a major role in the decorations you purchase.
Streamers, baby shower centerpieces, table decorations, and balloons create a playful ambiance while tying in your shower's theme.
You can find baby shower decorations at any party supply store, but also make sure to check online retailers like Amazon.com for an even larger selection of baby shower decorations and supplies.
Baby Shower Favors
Let guests know their presence (and presents) were appreciated by sending them off with a baby shower favor!
Some common baby shower favor ideas include:
Chocolate/candy

Key chains
Candles
Scented lotion
Scented hand-sanitizer (those irresistible mini ones from Bath and Body Works)
Nail polish (pink or blue)
You can find more baby shower favor ideas here: 
Additional Planning Tips
Planning a baby shower can be fun, but also a lot of work, so make sure you ask anyone interested to help you organize and streamline your baby shower checklist.
Also, whether she chooses to be part of the planning process or not, you'll want to make sure you consult with the mom-to-be before you get too far along in planning. She might have some ideas of things she'd like to see or people she'd like invited that you would have missed.