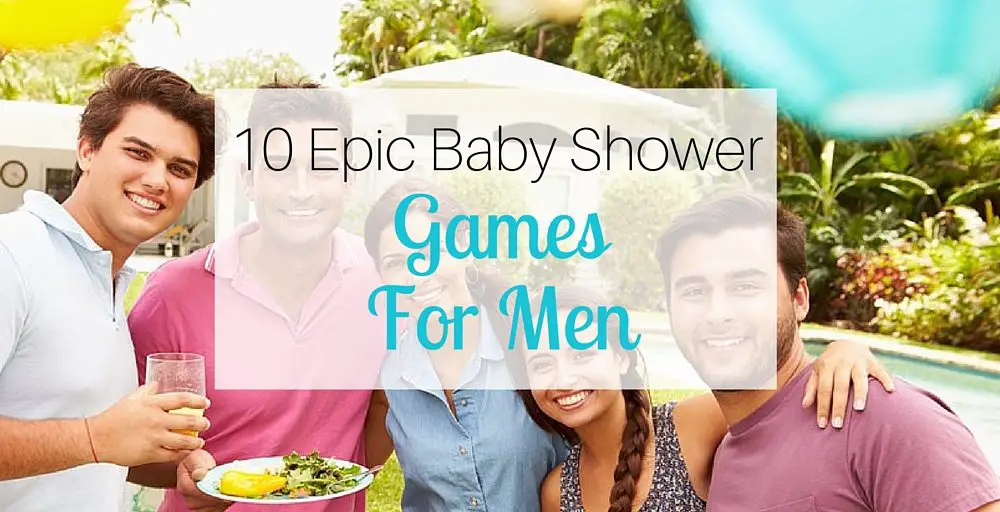 Why do we need a list of baby shower games for men? Because baby showers are not just for women anymore! It is becoming increasingly common to throw a coed baby shower, which is a man-friendly (ha!) baby shower. This is also sometimes referred to as a couple shower. So, what are some great ways to include the expectant father? Why, games of course!
Seriously though, before anything else, the men should be shamed and taunted, and made to feel like the odd man out. This is one of the most important baby shower activities! Then, fluff their egos back up by telling them how handsome they are and how brave of them it was to show up; after all, you're going to want them to want to play a baby shower party game or two!
10 baby shower games for men:
Chug, chug, chug!: Men compete in a race of the ultimate frat-baby! Bottles (yes, baby bottles) are filled with beer and the men must guzzle them down to the very last drop without pausing. The first one to succeed is the winner! (And give that guy a beer, will ya?)
Carry me: Men must partner up with whomever they choose; it has to be other men though. Partner A assumes the role of the one doing the carrying and partner B gets carried. The player being carried must be a man. This is a race from point A to point B, which team will make it first?
Babython: All of the men will race from point A to point B, but on their hands and knees with a binky in their mouths, grab a toy(or object) from a pile that's been set at that location, and they must bring this object back to the starting line. This means, they must find a place to put this toy so that they can still crawl, and binky is still intact. (Diapers, anyone?)
Diving for boobies: Fill a tote, cooler, or tub with water. Fill water balloons and place them in the water. The men will all take turns as they poke their heads underwater in order to get a mouth full! Literally, using only their mouths, they must fetch a water balloon from the tub and they will get a prize! (I always kinda thought the pink ones looked like breasts anyway…)
The diaper change: Using dolls or stuffed animals, place a diaper on each one, give the men diapers and wipes and see who can successfully change the diaper first! This is the real world stuff they don't teach you in school!
Pee on a stick: Every man should know what it feels like to have to pee on a pregnancy test, right? Get the pregnancy tests that you have to pee directly on. Each man will lay it flat, and using a bottle of water with a pinhole in the cap, must aim for the absorbent tip. The first test where the water has fully made it's way through to the end is the winner!
Pregnant belly limbo: Each player must put a beach ball under their shirts. Then, they play limbo!
Pin the diapers on the clothesline: While holding a baby doll! It's not only the moms who will learn to complete any task while holding a baby! string a clothesline across a room and secure it. Each guy spreads out and is given a basket of 10 diapers and clothespins, and while holding their babies some way or another, must figure out how to pin the diapers on the clothes line first, and without dropping the baby!
Diaper cornhole: Okay, that sounds pretty gross. But this is a game of cornhole using diapers instead of bean bags! Be sure to put colored dots on the diapers so you can tell the teams apart.
Binky pong: Beer pong is the game, and the rules are the same. Instead of a ping pong ball, binkies are used. If you are not familiar, you fill 12 cups with beer, and place 6 on each end of a rectangle table. Each team of two players takes turns trying to sink a binky into their opponent's cup, who must drink all of the ones you make. You get two tosses per turn, and if you sink both binkies on your turn, it's your turn again! Losing team must drink the rest of the drinks on the winning team's side!
How to make the baby shower games more fun:
Dress up: for appropriate games, have the men dress like a baby, such as wearing a bonnet and sucking a pacifier.
Manly prizes: Offer some manly incentive to get more participants. Perhaps a nice beer mug, tie, football, case of craft beer, or a pinup girl calendar might get their attention.
Men vs. Women: See how competitive men will get when they are put up against the baby professionals!
The baby food punishment: Why not raise the stakes and have the winner(s) choose a jar of baby food that the loser(s) have to eat completely!
Dish out chores: Have the loser do some chores such as cleaning up, serving the girls or handing out the baby shower favors.
Men can really participate in any other game played at a baby shower if they really wanted to, but these are the types of games they might have a hard time refusing to play! It'll be a baby shower that the mom and dad to be will never forget.